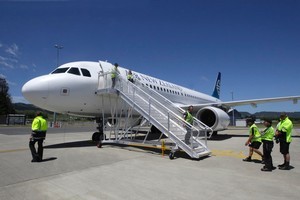 Investors' eyes will turn towards Air New Zealand's annual result this month after the national carrier's share price was hammered by natural disasters, soaring jet fuel costs and global economic gloom.
The NZX-listed airline's shares have suffered more than the average for the airline industry - down 28 per cent this year.
The International Air Transport Association, which represents about 230 airlines, said financial markets had marked airlines' share prices down 15 per cent this year.
Jet fuel prices had looked to be trending down from a peak in April but in July rebounded above US$130 a barrel as concerns about supply offset those related to the economic outlook, the association said.
Air New Zealand, which is 74.7 per cent government-owned, in March said it was raising its fares because of rising jet fuel costs - increases which during the previous month had added nearly US$10 million to operating costs.
The carrier in March said the financial impact of the Christchurch earthquake had been more severe than expected and the disaster in Japan would also affect revenue.
Based on fuel prices at the time and demand trends, the company said it no longer expected to be profitable in the second half of the year and that full-year normalised earnings would fall below $100 million.
The share price has declined from $1.53 in January, hitting a 12-month low of $1.02 in June and closing at $1.08 yesterday.
Goldman Sachs head of research Marcus Curley said the result for the second half was going to be poor.
"It's only a matter of how poor."
The airline had done good a job dropping its capacity to marry up with periods of reduced demand and load factors were up.
"The actual day-to-day running of the business from what we can see has been ... probably done pretty well," Curley said.
"The things which are more subject to market conditions in terms of the ability to push through higher ticket prices given the level of competitionin the market and how quickly youcan achieve that has meant thatthe profits have come undersignificant pressure."
Air New Zealand's performance during the next six months was expected to be strong, with the Rugby World Cup and ticket prices starting to recover some of the cost increases, Curley said.
"What we're seeing now emerge in the global markets is probably more likely to influence the business in 2012."
There was a strong relationship between tourism arrivals and the New Zealand dollar, Curley said.
"Once we get through the Rugby World Cup and into the true peak season ... it will be interesting to see how well our traditional markets, US, Europe, hold up against tougher economic conditions and a very high New Zealand dollar."