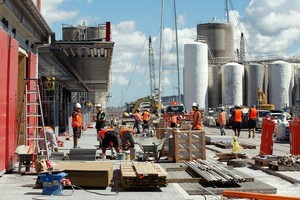 ASB's new national headquarters will shift from Albert St to Auckland's waterfront once its controversial new building is finished in two years' time.
Fletcher Construction won the contract to build the new offices, working for developer and owner, NZX-listed Kiwi Income Property Trust.
The circular building will be a 23,000sq m structure with a natural ventilation system, a radical step forward in New Zealand office blocks, aimed at eliminating traditional air conditioning systems which are not eco-friendly because they have high power usage.
A cone-like top on the building will pull down cool air in summer but retain warm air in the winter.
The building is rising on the corner of Jellicoe and Halsey Streets in the tank farm area, a big target for growth and expansion of the city's heart in the next few years.
The builders explained the air handling system. "Highly technical in terms of how it operates, each floor layout throughout the structure will be different," Fletcher Construction said. "A deflector tongue on top will attract sunlight and deflect it down the shaft to light up the inner spaces, providing a natural light source not dissimilar to a solar light tube.
"The ventilation systems will also be complex, utilising thermal mass and a venturi effect to extract heat from the building and exhaust it through internal atria. Louvres in a chimney-like structure on top will open depending on wind direction, effectively dragging heat load from the building. This passive type of ventilation will be controlled by an internal computer system," the builders said.
ASB North Wharf
* Started: March 2011
* $105m project
* Client: Kiwi Income Property Trust
* Completed: May 2013
* Architects: BVN Architecture/Jasmax
* Engineers: Buller George
Source: Fletcher Construction