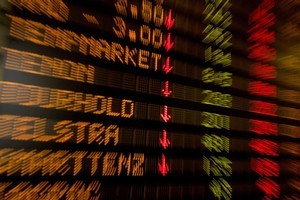 This morning New Zealand has the dubious honour of being the first stockmarket in the world to open in the wake of a US credit downgrade. The first ever, that is.
Take your pick of momentous events in US history - the Great Depression, the bombing of Pearl Harbour, Bay of Pigs, Watergate, 9/11 - this is a first. Investors have never had to deal with the idea that the US is not among the most secure lenders in the world. And New Zealand investors get first crack at trying to assess the severity of it all.
So what will we do? In theory there shouldn't be any need for panic. But theory doesn't always count for much when the fear takes hold.
There are good reasons for staying calm. The prospect of the US being downgraded has been very real for weeks now. On balance, it would have been more surprising if the nation had avoided a downgrade given the political standoff that saw it get to within hours of credit default.
The downgrade does put more pressure on an already troubled American economy. It is bad news but it should not, in itself, be cataclysmic.
The increased risk that a downgrade represents may push interest rates up in the US - and that could even flow through to the cost of borrowing worldwide.
If that happens (US Treasury is still saying it won't) it will suck cash out of the global economy and an already tardy recovery will slow further.
A slower recovery also means less global demand for commodities and that would hurt New Zealand exporters.
But in the grand scheme of things, three years into this grim economic malaise, it should be just another bump in the road.
The problem is that markets seldom operate rationally at times like these.
Panic sets in and all bets are off - as we saw last week when renewed concerns about European debt sent markets into a hissy fit.
The real threat from this downgrade is that as a symbolic gesture it tips already jumpy markets over the edge. At worst a major meltdown could paralyse the system, like the collapse of Lehman Bros did in 2008. That would be a disaster.
New Zealand's market is tiny by global standards. It would be a stretch to say that some resolve from local investors could change the way the world reacts to this crisis.
But who knows, we may have some influence in Australia. If New Zealand and Australia don't panic, perhaps that will be noticed by investors in Asia and so influence Europe and the US as they open tonight. If fear and panic can spread then perhaps common sense can too. Here's hoping.