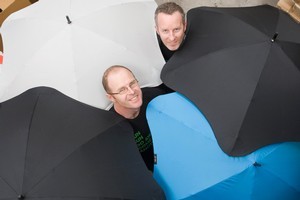 You are not doing too badly as a New Zealand company if the Wall Street Journal, the BBC, Japanese television and National Geographic are all talking about your product.
"Everyone likes a good umbrella story," says Greig Brebner, inventor of the Blunt umbrella.
New Zealand company Madeblunt was incorporated on January 4, 2006, by Brebner and business director Scott Kington. Now with 11 distributors to 23 countries, 2011 looks set to be its most interesting year with the launch of the new Blunt Golf umbrella at the Las Vegas PGA fair this month.
The Blunt technology is a uniquely tensioned canopy with a flatter aerodynamic profile eliminating any sharp edges and weak points. One of the main reasons umbrellas break is the fabric tears away from a tip of the umbrella or comes away from the ribs running through the umbrella. Blunt umbrellas, which cost $99, can withstand winds of up to 117km/h, thanks to their radial tensioning system.
"Not often does a product come along that makes so much sense in a product category that has been based around one traditional and effectively flawed design for centuries," says Kington.
The more expensive Blunt golf umbrella is the six-rib version of the XL Blunt and will have a fibreglass shaft to protect golf players from lightning.
"We are really excited about that market," says Brebner, who is a mechanical product design engineer and used to design electric scooters for the elderly while he was at Fisher & Paykel Healthcare.
He went to the UK in 1999 and after watching people throw away their umbrellas when they blew inside out decided there must be a better way.
"Traditional umbrellas seem to have a built-in obsolescence. We have designed and built that out of the equation," says Kington.
To protect the Blunt technology, the company has used AJ Park, patent attorneys. Madeblunt owns the trademark for Blunt. "The biggest challenge," says Brebner, "was money in the early days, trying to keep the patent alive."
Scott Kington, now based in Taiwan, just across the water from the company factory in Xiamen, China, says: "It is like getting an oil tanker moving. They take a huge amount of energy and effort to get moving but once it is going, the momentum starts and they are hard to stop."
Kington and Brebner founded the company through China-based Kiwi David Haythornthwaite, the son of Peter, who set up Better by Design here.
Significant markets for Madeblunt at this early stage are the US, Asia, specifically Japan, the UK and continental Europe. In the US, Blunt umbrellas are sold in Nieman Marcus. Madeblunt has set up Blunt USA, run by a young Kiwi and Auckland Grammar old boy, Mark Duffin. "He's brilliant, he's selling the story," says Brebner.
Though the UK has been a hard market, Madeblunt has had a recent coup, providing the umbrellas to Range Rover and Jaguar through an English promotions company.
"A growth rate of 500 per cent a year is not unachievable," says Kington, given the international interest.
"We have seriously just scratched the surface of a large, potentially global market so the next few years are looking very positive and very exciting."
Kington feels lucky with their angel investor backers.
"New Zealand needs more investors like ours that see the potential in a product, the guys behind it and give it the time and money to get there."