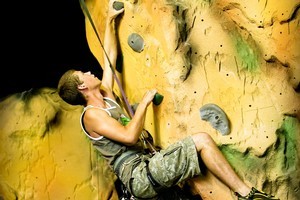 Trublue Auto-belay allows abseilers a graceful descent. Photo / Supplied
A Christchurch company is enjoying a growing market for an auto-belaying product which has revolutionised the world rock-climbing industry.
Holmes Solutions' Trublue Auto-belay rope-fastening technology uses magnets and eddy-current braking to allow people to abseil to the ground unassisted.
The design-and-testing company became aware of a need for the belay while working on a relocatable rock wall at the Roxx Climbing Gym in 2007.
"They had issues with their belays and we found there was a market for a better unit," CEO Chris Allington said. "We surveyed users and investigated a range of technology before settling on an eddy current."
Allington said knowledge of the technology had been around since the 1800s but the trick was the ability to control it.
"We spent months in the testing laboratory understanding how the science works ... We tailored it to exactly how we wanted it to behave."
The Trublue Auto-belay works by passing an aluminium component through a magnetic field. The proximity of the magnetic field to the aluminium creates eddy currents, which produce a magnetic field in the opposite direction. The opposition causes the braking forces.
No wearing parts mean the mechanism has a longer life, is more reliable and is cheaper to maintain than conventional friction brakes. It adjusts automatically to suit the weight of the climber, providing a smooth, constant rate of descent.
Holmes Solutions licensed the global manufacturing and distribution rights for Trublue to the Eldorado Wall Company of Boulder, Colorado, for a seven-figure sum last year.
"We realised we needed a company with a global presence that would helps us attack the market," Allington said.
However, all the units are still made by Christchurch's Contex Engineers.
Holmes retains ownership of the intellectual property and a 10 per cent royalty for every unit sold. Each one costs $2500 and 1500 were sold last year. The company expects to sell at least as many this year.
So far Eldorado has distributed the belays in Asia, the United States, South America, Europe and Australia.
Allington said Holmes was also developing the technology for other purposes, including rapid emergency exits out of tall buildings, wind turbines and offshore platforms.
He went to the US Association for Challenge Course Technology in Minnesota this February to promote the device's use in the adventure sport known as zip lining. Zip lining is similar to using a flying fox but people are attached by harness and can travel up to 1600m at 100km/h. "A car tyre at the end won't stop it but the auto-belay does ... We came back with a book full of orders."
The product is also receiving international recognition. It won Nasa's best new product award for technology applied to amusements at the International Association for Amusement Parks and Attractions this year, a Red Dot Design award, and the Outdoor Industry Award at the world's largest outdoor-sporting goods show in Germany.
Abseil devices a Trublue success
Before using Trublue belays, Christchurch indoor-climbing centre The Roxx used automatic belays made by American company MSA.
Co-owner John Targett said the older technology had high operating costs and created a lot of brake dust which had to be vacuumed weekly, requiring staff to climb up 8m with a vacuum cleaner.
In contrast, the Trublue auto-belays only need an inspection once every six months. "The cost savings are huge."
The company operates The Roxx climbing centre and Clip 'N Climb from the same complex.
Two people climb together in The Roxx - a climber and a belayer.
Clip 'N Climb uses Trublue auto-belays and offers one-hour sessions. It means everyone can climb all the time and nobody has to take turns belaying. "It's huge for birthday parties," Targett says.
The company started with the first six Trublue auto-belays and now has 33.
It also distributes Trublue around Australia and New Zealand.