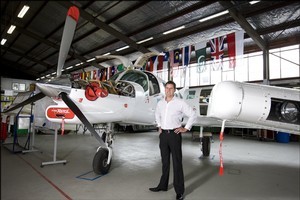 Hamilton-based aircraft manufacturer Pacific Aerospace says it will lay off 26 workers because of the strong New Zealand dollar and difficulties its customers are facing in raising finance to buy its aeroplanes.
Chief executive Damian Camp said it had been "gutting" breaking the news to staff this morning.
"We've been left with no choice other than to take this action, which is heart-wrenching really," he said.
"We've got an amazing team here and people have contributed a hell of a lot over the last three or four years over some pretty tough times. Unlike some general aviation companies in say the United States we've managed to hold to this point with no redundancies."
Camp said the company had a "healthy list" of customer enquiries, but exact timing of many orders could not be "locked in".
With world financial markets in their current state, he said it had become very difficult for the firm's customers to raise finance for capital purchases such as aircraft.
"That coupled with the prolonged high in the New Zealand dollar ... is just undermining our position," said Camp.
The number of workers employed by the firm will reduce from 157 to around 131 as a result of the redundancies, which would take place over the next two weeks.
According to its website, Pacific Aerospace "has over 50 years experience designing and manufacturing rugged and reliable aircraft that perform where others can't".
The firm manufactures a range of small aircraft, including the P-750 XSTOL, which the company said could take off and land in less than 244m, even in hot conditions or at high altitude.