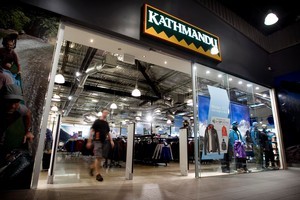 The chief of outdoor apparel retailer Kathmandu Holdings says that despite a tough retail environment the business is well placed to grow over the coming 12 months.
In a trading update for the year to July 31, released yesterday, the NZX-listed firm said sales had been bolstered by favourable weather conditions on both sides of the Tasman, and pre-tax earnings would be up by as much as 36 per cent.
Shares jumped 14c to close at $2.34.
"Despite the exceptionally challenging retail environment we are very well positioned to grow the business in the year ahead," said Kathmandu chief executive Peter Halkett.
The Christchurch-based company said earnings before interest and tax (ebit) for the year were expected to be between $63 million and $65 million, compared with $47.9 million the year before.
The firm said consolidated sales for the year to July rose 24.5 per cent, or $60.2 million, on the previous year to $306 million.
Sales in Australia rose 26.3 per cent to A$143 million ($180 million), while New Zealand sales were up 18 per cent at $111 million.
Revenue in the UK dropped 6.7 per cent to £3.9 million ($7.3 million).
Kathmandu said the lift in sales could also be attributed to more investment in inventory, as well as better than expected results from new stores that opened during the year.
Halkett said overall trading had been positive during autumn and winter.
The strong aussie and kiwi dollars had encouraged people to travel abroad, he said, which had a flow-on benefit to Kathmandu.
The company sells the kind of items consumers purchase for overseas trips, such as sleeping bags, backpacks and wet-weather gear.
"This result reinforces our confidence that the continuing investment we are making in the Kathmandu brand and product range is being strongly supported by our customers," Halkett said.
Goldman Sachs retail analyst Buffy Gill said Kathmandu's trading update was positive, beating forecasts.
"As a result our EPS [earnings per share] forecasts are under review," she said.
Goldman Sachs, which has a buy recommendation on the outdoor firm's stock, has set a 12-month target of $3.05 on its share price.
Kathmandu said further details on the company's performance would be given when full-year audited results were released on September 21.