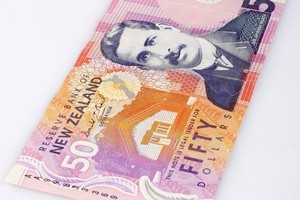 The New Zealand dollar rose, hitting a fresh post-float high against the greenback as investors looked to limit their exposure to the US, where 11th hour negotiations are still underway to raise the US$14.3 trillion debt ceiling ahead of the August 2 deadline.
It has hit US87.92c and is nearing 80c Australian.
On Friday in New York, investors' confidence levels fell as lawmakers in Washington appeared no closer to reaching a deal on the debt ceiling. That provided a boost for the euro, and growth-linked currencies such as the New Zealand and Australian dollar. However, negotiations on the weekend appeared to be close to a solution.
"The very early reaction has been a slight nudge up in the kiwi on the speculation something will be agreed on the debt ceiling," said Imre Speizer, a market strategist at Westpac Bank. "It has been a very interesting open to the morning, and we'll probably be the most important market for the next while until Asia opens."
Confidence levels were also sapped on Friday by weaker-than-expected US economic growth report for the second quarter, at a 1.3 per cent annualised pace, short of the 1.8 per cent rise predicted. The sting in the data came with revisions to first-quarter gross domestic product numbers, with growth revised back to a 0.4 per cent expansion from 1.9 per cent previously.
That saw a sharp pull back in risk appetites, with the Standard & Poor's 500 Index falling 0.7 per cent to 1,292.28, Europe's Stoxx 600 dropping 0.7 per cent to 265.25, and the 19-commodity Thompson Reuters Jefferies CRB Index declining 0.7 per cent to 342.08.
The kiwi recently traded at a fresh post-float high of 87.92 US cents, up from 86.61 cents on Friday in New York, and rose to 74.79 on the trade-weighted index of major trading partners' currencies from 74.05. It rose to 79.78 Australian cents from 79.23 cents last week, and climbed to 67.91 yen from 67.21 yen. It gained to 61.04 euro cents from 60.66 cents on Friday, and rose to 53.50 pence from 53.13 pence previously.
The kiwi dollar may trade between a support level of 87.30 US cents and a resistance level "somewhere above 88 cents," Speizer said.