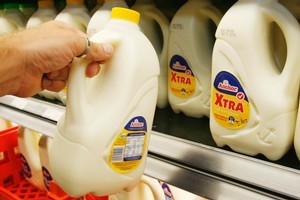 The Commerce Commission will release its decision tomorrow on whether to hold an inquiry into the retail price of milk.
A Consumer NZ commissioned survey of 1000 people found 91 per cent thought they were paying a high price for milk compared with other supermarket staples and 79 per cent wanted an inquiry into dairy pricing.
Consumer NZ chief executive Sue Chetwin has said people paid too much for milk and deserved to know how prices were set.
The Commerce Commission in March said it would undertake a preliminary analysis to determine whether a price control inquiry into retail milk was warranted.
A number of parties had laid specific complaints about the retail price of milk, the commission said.
Price control inquiries were undertaken to ascertain whether to recommend price regulation of a good or service, it said.
Goods or services could only be regulated under the Commerce Act if there was little or no competition, and if the benefits of regulation materially outweighed the costs of regulation.
There were potentially three market levels involved in the production of milk - supply of raw milk to processors, manufacture and supply of milk products and retail, it said.
The commission said it intended to review the operation of each level and consider whether it should hold a price control inquiry.
Meanwhile, an interdepartmental group, with the Ministries of Agriculture and Forestry, Economic Development and Treasury represented, has been established to look into how Fonterra sets the price it pays farmers for milk.
Farmer co-operative Fonterra, which collected about 89 per cent of national milk production in 2009-10, has commissioned a report by Compass Lexecon which it said concluded that the way the company set the farm-gate milk price was sound.
The report also said domestic dairy prices had increased less than global prices during the past few years.
A Statistics New Zealand examination this year into the retail price of milk from the 1890s to February found that month was the highest in nominal terms, although in real terms the cost of two litres of standard milk had been higher in 1994 and 2002, after allowing for inflation.
The average price for two litres of standard milk in June was $3.68, compared to $3.23 at the same month in 2008, with a low point of $3.16 during the intervening period, according to Statistics New Zealand,
The ANZ Commodity Price Index for dairy products in June was 83.9 per cent higher than in June 2008.