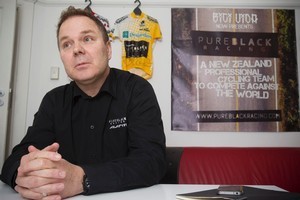 The news that Australian Cadel Evans won the Tour de France was music to the ears of New Zealand's new professional cycling team, Pure Black Racing.
Business director and co-founder Greg Cross says: "It was an awesome result for Cadel, Australia and, ultimately, us, as it puts a lot more focus on pro cycling here," he says.
Pure Black Racing was launched in July last year by America's Cup yachtsman Carl Williams and Cross, who is chairman of business incubator The Icehouse.
"Pure Black Racing was founded specifically to create a valuable international brand and sporting franchise out of New Zealand as pro-cycling becomes a truly global sport. There is strong demand for international teams particularly from Asia Pacific," says Cross.
The objective of the team, which includes two NZ Olympic cyclists, Glen Chadwick and Tim Gudsell, is to take a New Zealand pro-cycling team to the Tour de France by 2015.
Cycling is a growth sport on every level, says Cross, a self-described "serial entrepreneur" and the former chief executive of Advantage Group.
Cycling is the number two sport in Europe after soccer, and is growing in America and Asia, especially in China.
The sport is offered at schools all over New Zealand - go down to Tamaki Drive early Sunday morning and it is taken over by schoolboy cyclists.
Meanwhile many business executives cycle together in their spare time, says Cross. Cycling is the new golf.
"As a country, we have more cycling world champions than any other sport. Cycling and rowing are the sports that we are doing the best in," adds Cross, naming people like Julian Dean and Greg Henderson.
There is a hierarchy structure to professional cycling which Pure Black Racing, based in Boulder, Colorado, since March, is working its way up.
"We are on the entry level tier for pro cycling and there are regional tours," says Cross.
"What's a little bit different about us is we are actually spending a large part of our year competing in what is arguably the most competitive tour at this level in America."
The New Zealand team is creating a reputation for being a feisty, aggressive group of riders.
Meanwhile the objective this year is to be one of the top teams in the US, says Cross.
The Tour of Utah in August is the next big race.
"In Utah, we compete against teams from the Tour de France including Radioshack, HTC and even Cadel Evans' BMC team," says Cross.
Setting up a professional cycling team is not cheap. It cost $2 million to launch and $1 million a year in operational costs. Some of the top teams of Europe have budgets of €15 million ($24.5 million).
As well as its professional squad, Pure Black has a development squad of nine riders.
Pure Black Racing's main sponsor is New Zealand bike company Avanti and Atlantis Healthcare, a company with offices in Europe and Australasia, has just signed on as another key sponsor.
Cross hopes more international and New Zealand companies will sign up once the Rugby World Cup is over.
Meanwhile he is promoting the Pure Black Racing brand to an international audience.
"The key challenge is establishing a culture that is world-beating but has an identity," says Cross, the former chair of New Zealand Trade & Enterprise's Beachheads Advisory Board.
He foresees high-value tourism opportunities through Pure Black Racing.
"We are market testing the idea of pro-cycling-style training camps for international executive cyclists who would typically do annual tours to Europe."
PURE BLACK
* Professional cycling team.
* Founded last year by Carl Williams and Greg Cross.
* Based in Boulder, Colorado.
* Aims to take a New Zealand pro-cycling team to the Tour de France by 2015.
* Sponsors include bike company Avanti and Atlantis Healthcare.