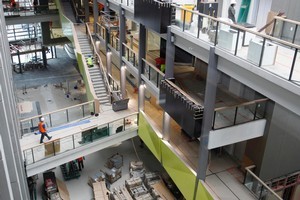 A $1 billion decade-long property refurbishment, expansion and upgrade is under way at the University of Auckland, propelling the public-sector institution ahead of any in the private sector.
One job alone is bigger than Eden Park, says Peter Fehl, director of property services.
Much of the expansion is taking place in the Grafton Campus' Faculty of Medical and Health Sciences.
When Fehl started in 2005, he toured the buildings opposite Auckland City Hospital and found outdated, cramped, dark facilities.
Now, some of the advanced research laboratories are finished and sporting updated ventilation, better lighting, computer services, upgraded heating and air conditioning, study areas and more storage.
"At present, we are possibly the biggest developers in New Zealand. Last year we spent $130 million on property projects and this year $186 million and at $240 million the faculty of medical and health sciences project is worth more than Eden Park's $220 million," said Fehl.
The medical faculty is spread across two outlying campuses, Grafton and Tamaki.
Grafton is getting its biggest upgrade and expansion since it was developed about 40 years ago.
Fletcher Construction has almost finished what is colloquially known as the Boyle Building because it straddles Park Rd and Boyle Crescent, although Fehl explains that the building is technically building 505.
The site was home to three villas but is now an $88.7 million four-level building with two basement levels and a full-height atrium topped with the same plastic as that used over the new south stand at Eden Park.
The new block fits between buildings 503 and 504 and by October most of the fitout will be complete. The larger work has been the gradual top-down refurbishment of Boyle's adjoining buildings which has taken the larger slice of the budget at $91.6 million for five levels and $24.9 million for basement refurbishment.
Behind-the-scenes, $34.7 million has been spent upgrading power supply to the faculty, installing new air conditioning systems, a new workshop, centralised wash and store areas and an upgraded server room.
The Grafton campus is for students doing courses in medicine, surgery, health sciences, pharmacy and nursing.
Bill Williams, senior communications adviser, said the money for the Grafton job came from the capital budget over five years - derived from "government grants, tuition fees and other income".
The Grafton job will be finished by early 2013.
But it is just part of the university's wider expansion on the ridge above the CBD.
On the city campus at 38 Princes St near the Wellesley St corner, an upgrade is under way of the science building 303: a seven-level refurbishment providing computer teaching rooms, study spaces and academic bases for the maths and physics disciplines.
A third project, above Grafton Gully, is the university's first dedicated student accommodation since the 12-level O'Rorke Hall in 1989. The 468-room University Hall is rising on Whitaker Place. The tower is made up of modular units and is due to be finished in six months.
AUCKLAND UNIVERSITY EXPANSION
Grafton Campus Faculty of Medical and Health Sciences
* Boyle Building or building 505: $88.7m.
* Refurbishing buildings 501, 502, and 503: $91.5m.
* New services/infrastructure/central plant: $34.7m.
* Basement refurbishment existing buildings: $24.9m.
City Campus
* Science building 303, 38 Princes St, upgrade and expansion: $42m.
Whitaker Place
* 468-room University Hall, opening next year: $51m.
Source: The University of Auckland
ON THE WEB
For a fly-through of the Grafton work, visit http://tiny.cc/i4cid