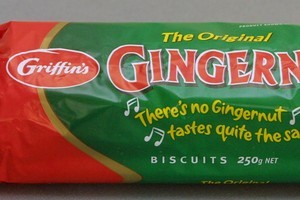 Pacific Equity Partners has appointed two banks to conduct a strategic review of New Zealand's biggest biscuit-maker Griffin's Foods.
UBS, which advised French food group Danone when it sold the business to PEP back in March 2006, is on the ticket along with Goldman Sachs, which was hired partly for its strong North American links, The Australian newspaper reported today.
Griffin's -- which makes well-known brands of biscuits such as Chocolate Chippies, Meal Mates, Toffee Pops and Gingernuts and the Eta and Nice & Natural snack brands -- could sell for about $1.26 billion, the newspaper reported.
Food giants Nestle and Kraft would be among logical suitors, the newspaper said.
Global snack and confectionery company Kraft owned Nabisco, which in turn owned Griffin's from 1962 until 1990, but Kraft had also spent a lot of money to buy Cadbury.
Other potential buyers might include other private equity groups, trans-Tasman food giant Goodman Fielder, or Chinese buyers such as Bright Food, which looked at Blackstone's United Biscuits earlier this year.
Established in Nelson in 1895, Griffin and Sons' factory was moved to Lower Hutt in 1938, with an additional factory in Papakura opening in 1967.
When PEP took over Griffin's from French food group Danone in 2006 for 194 million euros (then worth $391.44 million) the biscuit-maker had a net sales revenue of $176 million, PEP said it was a premium New Zealand business with a stable of iconic brands and a strong consumer franchise in the New Zealand market.
Just two years later, 228 workers were made redundant when the Lower Hutt factory was closed.
Most recently, Griffin's made a net profit after tax of $16.2m on revenues of $263.7m for the year to December 2010.
PEP declined comment on the strategic review. It recently staged a A$204 million float of its KFC franchise business Collins Food and sold its 43 per cent stake in Tegel to Affinity Equity Partners in April this year.
Before the Tegel sale, the Australian Financial Review reported Griffin's was thought to be valued at around A$500 million ($633m).
- NZPA