There's nothing like being left waiting at a chilly airport to make you appreciate Air NZ.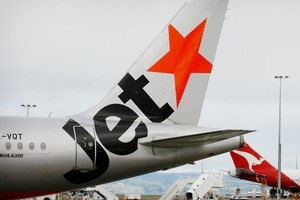 JetStar. JetDUNCE, more like. Please do not ever let me book on JetStar again, people. Martin Devlin, chook, I feel your pain.
Oh, shush already, I get that it is great that competition has made Air New Zealand up its game. We love competition. But when you are stuck in Queenstown with two small children, as I was this week, and Jetstar does not seem to give a flying toss (I did want to use another word there) that you need to get home, purity of economic policy does not feature highly on your priorities.
That is when you ponder the fact that travel is not a commodity like buying chewing gum or bubble bath. Travelling somewhere is a contract that leaves you nudely vulnerable if the transport provider reneges on their end of the bargain. When you are stuck in a freezer-type situation with two hungry, scratchy, tired skippies, you are inclined to feel that travelling punters need some protection.
When I rang Jetstar after our flight out of Queenstown was cancelled, their response from a call centre in a place where they don't speak very good English obviously went according to a script for morons. It was like talking to a thick computer. I could have my money back. There was no compensation. Jetstar seemed to have no concept of helping out the passengers they had stranded.
Of course, the snow was not Jetstar's fault. But isn't inclement weather inevitable in Queenstown in the middle of winter? Surely there should be some flexibility and common sense about making sure the stranded punters get on new flights as soon as the weather permits. Instead, you feel like you are dealing with an outpost of some alien corporation. The Martian management of Jetstar are able to be utterly disconnected with the activity it is running.
When I rang Jetstar to see if the flight was, by freakish chance, still on, the call centre twice told me "yessiree" despite the fact by then Air New Zealand had cancelled all its flights and Jetstar's own plane had not even left Christchurch. Not a clue.
In the event, we decided to try to drive to Christchurch, although it was by then after 1pm and I had to organise a rental car, chains and wasn't sure we could even get on the last flight out. The drive had its hairy moments - especially a 40-minute wait after a grit truck had an accident on the bridge to Arrowtown. The children only said "are we there yet" about 300 times. But, fortunately, I had a heroic driver who not only was a virtuoso on the gearstick but also happened to be a maths whiz who could work out moment by moment how far we had to go and judging by our speed whether we could make it in time, especially when we hit an unexpected snowstorm in Geraldine.
We did the trek in a rumpty rental Toyota hatchback without stopping, through sleet, snow storms, amazing scenery, constantly thirsty as we had run out of water (that helped with lack of toilet breaks, but not good when you have had a huge night before).
We caught the very last flight out of Christchurch by about two minutes. When we got on the last plane home I felt quite swoonily in love with Air New Zealand. So the moral of the story is: always welcome competition. If you're any good it will only make your customers love you more.
dhc@deborahhillcone.com