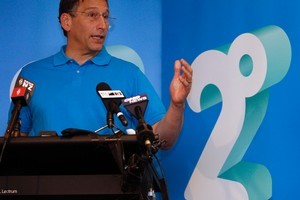 Mobile company 2degrees says it has gained 200,000 customers from rival telcos Telecom and Vodafone through number portability in the last two years.
The figures come just days after it was revealed Vodafone New Zealand, the country's biggest mobile operator, had lost 26,000 customers in the June quarter.
Number portability was introduced in April 2007 and allows customers to keep their number when switching telcos.
Based on the latest numbers, Vodafone has around 45.8 per cent of the local market, Telecom has around 40.4 per cent and 2degrees 12.7.
2degrees chief executive Eric Hertz said it was clear that a mobile number no longer belonged to the network, but the customer.
"We understand that a customer's mobile number is part of their identity, and it should be portable, so they can take it with them, whoever they choose as their mobile provider.
"The 200,000th customer to port their number to 2degrees is particularly significant given the launch of 2degrees business in July, because the last thing a business wants to do is change their number and risk losing contact with valuable customers."
In March this year, 2degrees said it cornered about 11 per cent of the nation's market with 580,000 customers.
- NZ HERALD ONLINE