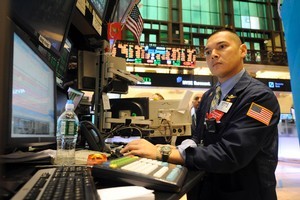 Investors on Wall Street sat on their hands while the US Democrats and Republicans duked it out over rival plans to lower the country's deficit and raise the US$14.3 trillion debt ceiling.
In afternoon trading, the Dow Jones Industrial Average dropped 0.41 per cent and the Standard & Poor's 500 Index slipped 0.08 per cent. The Nasdaq was up 0.16 per cent. ?
IMF chief Christine Lagarde on Tuesday urged the US to quickly resolve the political stalemate, warning that failure to reach an agreement would have serious consequences for the world economy.
"The clock is ticking and clearly the issue needs to be resolved immediately," she told the Council on Foreign Relations according to a text of her remarks, Reuters reported.
Investors are still betting an agreement will be reached.
"This is a political issue. Both of these sides feel they have a great deal to lose, but we all feel as though there's going to be a deal. Look at the market, the S&P is down nothing. There's going to be a deal," Mike Shea, a managing partner and trader at Direct Access Partners LLC in New York, told Reuters.
Even so, the greenback hit a record low against the Swiss franc of 0.7997 franc on trading platform EBS and fell to a four-month low near 77.883 yen, not far off a record low of 76.25 set in March.
"The market is getting more nervous about the debt ceiling issue," You-Na Park, currency strategist at Commerzbank in Frankfurt, told Reuters. "If the market was really starting to price in the possibility of a default, the [US] dollar would be losing more than what we saw."
The dollar weakened 0.8 per cent against a basket of major currencies.
The odds of the US failing to reach a budget deal by August 2 are about 40 per cent, and a reduction of the nation's credit rating "now seems the base case," Bloomberg reported, citing Andrew Laperriere, a managing director at International Strategy & Investment in Washington,
Laperriere said in a note to clients today that there are "strong policy and political incentives" for President Barack Obama and House Speaker John Boehner to reach a deal. "That's still possible, but a deal that would alter the trajectory" of the ratio of federal debt to gross domestic product "now appears unlikely," he wrote.
Meanwhile, economic data lacked lustre. Sales of new US homes unexpectedly fell for a second month, with purchases falling 1 per cent in June to a 312,000 annual pace, according to the Commerce Department. Values weren't faring much better. Prices in 20 cities fell 4.5 per cent in the year ended May, the most since November 2009, according to a report from S&P/Case-Shiller.
Among the decliners today was 3M, which dragged the Dow lower after reporting profit margins that fell short of expectations.
Across the Atlantic, the benchmark Stoxx Europe 600 Index fell 0.4 per cent as corporate earnings missed the mark.
Both UBS and BP reported earnings that fell short of analysts' expectations.
In other news, George Soros is returning money to outside investors in his US$25.5 billion firm, ending a career as hedge-fund manager that spanned more than four decades, according to Bloomberg.
Soros, who turns 81 next month, will hand back the money, less than US$1 billion, by the end of the year, Bloomberg reported, citing two people briefed on the matter. His firm will focus on managing assets solely for Soros and his family, Bloomberg said, citing a letter to investors.