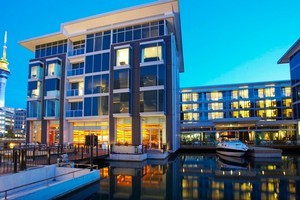 A deal to resolve issues at troubled five-star hotel the Westin Auckland Lighter Quay is on the cards after a global hotel giant said it would leave the premises this week.
Graham Wilkinson, who runs rival Hotel Viaduct Harbour within the walls of the Westin at discount rates, hopes his new business can now manage Westin rooms as Westin owner Starwood Hotels and Resorts said it would be gone by Friday.
"Starwood, together with Lighter Quay Hotel Management and affiliated Melview entities [all trading in receivership] announce today that the Westin management agreement in respect of the Westin Auckland Lighter Quay will cease to be in effect from July 29," it said.
"Starwood has been working closely with the receivers Tim Downes and Richard Simpson [Grant Thornton NZ], in regard to the ongoing dispute with the owners of certain rooms at the hotel.
"However, that dispute has not been able to be resolved and Starwood has accordingly been unable to continue its operations as normal.
"This is an unfortunate situation for all involved and its associates and guests remain the priority for the Westin Auckland. Starwood will continue to explore opportunities to introduce the Westin and its other brands back into the Auckland and New Zealand markets," Starwood said.
Wilkinson described Starwood's withdrawal as a surprise even though his new business offered rooms at much-reduced rates to Westin from July 1, in the same property: At one desk, a hotel room will cost about $600 a night but a few steps away an identical room will be just $99 a night.
Westin was left with just 58 rooms and Hotel Viaduct Harbour had 116 rooms. All rooms are owned by owner/investors and a disgruntled group withdrew their rooms from the Westin after not being paid.
Wilkinson hopes Hotel Viaduct Harbour can operate all 58 former Westin rooms and said some owners had already been in contact expressing an interest.
"Hotel Viaduct Harbour was set up because most of the room owners were exhausted by trying to reach a commercial agreement with the receivers appointed by the Bank of Scotland a year ago," he said.
"Now that the Bank of Scotland has sold its debt to an Asian investor and new receivers have been appointed, we may see further change and a more commercially realistic approach.
"We have already told the new receiver that our room owners would be happy to go to arbitration to establish a fair, commercial value as the basis for a transaction but frankly we are not waiting around as we are going from strength to strength," he said.
"We expect to do major business during the Rugby World Cup period. We will be asking higher rates for our rooms during this period but they will still be about half the rates being asked by other waterfront hotels," Wilkinson said.
HOTEL GIANT
Starwood Hotels and Resorts Worldwide
* Managed the Westin Auckland.
* Leading hotel/leisure companies.
* 1000 properties in 100 countries.
* 145,000 employees.
* Leaves Auckland hotel this week.
Source: Starwood Hotels and Resorts