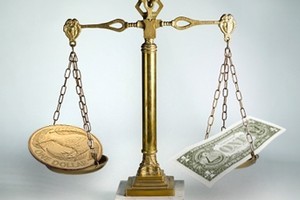 The New Zealand dollar soared to a new post-float high as speeches by US President Barack Obama and House Speaker John Boehner showed no progress in lifting the debt ceiling, resulting in a sell-off of US assets.
The kiwi dollar climbed to 87 US cents, the highest since before it was allowed to trade freely in 1985, as the greenback was pummelled and recently traded at 86.89 cents. US stocks and bonds also sold off in offshore trading. The greenback dropped to a record low against the Swiss franc, a four-month low against the yen and the Dollar Index fell to the lowest since early June.
"With every day that ticks by in the lead-up to August 2 with no progress, the market remains vulnerable to selling of US assets," said Sue Trinh, senior currency strategist at RBC Capital Markets in Hong Kong.
Obama said in a state of the nation address televised in the US that America's fiscal deficit could inflict "serious" damage on the world's biggest economy if the Congress can't reach accord on raising the US$14.3 trillion debt ceiling.
He described the stand off with Republicans as "a dangerous game we've never played before, and we can't afford to play it now."
Boehner blamed Obama for the stalemate in a separate televised address.
The ongoing stalemate has "weighed heavily on US dollar assets," RBC's Trinh said.
Rating agencies Standard & Poor's, Moody's Investors Service and Fitch Ratings have all put the U.S.'s triple-A rating on notice of a potential downgrade.
The trade-weighted index, which measures the kiwi dollar against the currencies of major trading partners, rose to 74.14 from 73.75 this morning NZ time. The kiwi rose to 79.75 Australian cents from 79.40 cents earlier today.