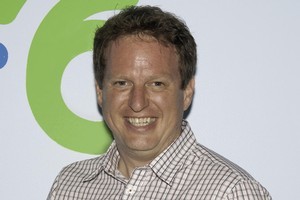 There are not many small businesses in New Zealand who can say Sam Morgan invested in their business at the beginning and is on their board.
Sonar6 co-founder Mike Carden explains that Trade Me - this was before it was bought by Fairfax - was the company's first customer when Sonar6 was set up in February 2006.
The Freemans Bay company provides a software graphics-based approach to performance reviews and performance management, with the aim to inject some fun into a human resources process which has been universally unpopular for years but is nevertheless seen as a necessary evil.
Mike Carden, formerly general manager of sales and marketing, took over the chief executive role from co-founder, John Holt, in April.
Holt, a well known name in the Wellington tech community, will remain involved with the company, doing special projects.
Mark Hellier, the other co-founder, is head of product.
"Our approach was, let's make performance reviews something you like rather than dislike," Carden says.
The Sonar6 performance review software concentrates on engagement rather than compliance.
It is targeted at employees, management and human resources departments, in that order, Carden says.
"We want to shift performance management, not for it to just be an annual process, but to make it more continuous, something that you use every day, not twice a year," he adds.
"We are getting a lot of feedback from HR departments that they get to roll out software that is cool, that is engaging."
The Sonar6 reviews allow management to have a helicopter view of their staff.
Data is "rolled up" so it gives them an overview of their individual staff and gives them good tools for succession planning.
The software "improves the quality of the conversation" between manager and employee, Carden says.
"It asks how well are they performing, are they improving or declining. It also gets feedback from employees and managers."
Employees can go to customers to contribute to the process.
Five and a half years after its launch, the company has a turnover of close to $10 million, with 400 corporate clients worldwide and 100,000 users.
The software is provided on an annual subscription basis.
Carden targets companies with between 100 and 1000 staff.
The client list includes NZ Post, Solid Energy, Kiwibank and IAG NZ.
Sonar6 has offices in Auckland, Sydney and San Francisco and will probably open in the UK or Europe in the next 12 months, Carden says.
The United States represents 50 per cent of the business, Australia and New Zealand together are the next largest market, then the UK.
"It's like cycling up a hill. As soon as you stop peddling, you fall over," he says.
Sonar6 is investing heavily in online marketing, including search engine marketing. "We are trying to become a business of $1 billion market cap. The market opportunity is phenomenally large."
The company, chaired by Chris de Boer, former chairman of the New Zealand Venture Investment Fund and a non-executive director of Mobilis, is in the middle of a capital raising.
"For a software business like ours the venture capital market is great," Carden says.
He and his team are talking to Californian and Australian venture capital players.