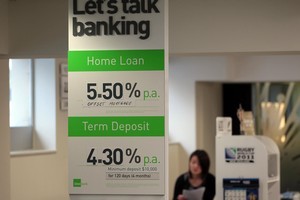 With rising interest rates looming on the horizon, bank economists say now is a good time to fix your mortgage.
But not all commentators believe that fixing is necessarily better than floating.
Market watchers generally agree the Reserve Bank will increase the Official Cash Rate this year.
Some, like BNZ chief economist Tony Alexander, predict the first rise will come in September with further hikes in October and December, increasing the cash rate from 2.5 per cent to 3.25.
But fixed mortgage rates moved ahead of the cash rate because they were driven by expectation.
"It's now becoming quite risky to stay on floating if your plan is to fix."
Westpac chief economist Dominick Stephens said he had been advocating fixing for some weeks. Wholesale interest rates had been rising and if that continued it would flow to the price of fixed mortgages.
"The market is coming around to the idea that there really do need to be substantial interest rate hikes in New Zealand eventually."
The coming reconstruction boom in Christchurch would put pressure on inflation.
"What that means is if you sit on floating you'll end up paying higher interest rates as the Reserve Bank struggles to get on top of persistent inflation pressures through 2013.
"Whereas if you were to fix now, particularly the three-year rate, you'd avoid that."
He acknowledged that might be a big call for homeowners, as the three-year rate was currently around 6.9 per cent compared with floating at 5.6 per cent. "[But] in the current circumstances I feel there's an unusual degree of certainty about the economic outlook."
However, the editor of interest.co.nz, Bernard Hickey, said he would be remaining on a floating rate.
"It makes sense to stay floating if you think the Reserve Bank is going to be quite cautious about putting up the OCR, and I think they will be cautious."
The economy was likely to remain relatively subdued, thanks to factors such as the European and US debt crises and ongoing restrained consumer spending.
After last year when it raised rates and the country almost went into a double-dip recession, the Reserve Bank would not want to put too much stress on too quickly.
The high New Zealand dollar was also taking the pressure off the central bank.
Darren Pratley, chairman of the Mortgage Brokers Association, believed there was self-interest in the trading banks' view on fixed mortgages.
"A large percentage of those banks' books now are floating, not fixed, and people can shift to another lender if they want to. I think you are seeing the differences in commercial interest in those statements."
Reserve Bank figures show more than half of all residential mortgages are now on floating rates.
Pratley had noticed homeowners starting to move towards fixed mortgages.
He reminded people that even if they did fix, in an environment of rising interest rates they could still pay lump sums with little or no penalty.
Also the loan could be split between fixed and floating. Brokers often advised people with fluctuating incomes - such as those who earned bonuses or commissions - to use floating and revolving credit mortgage products.