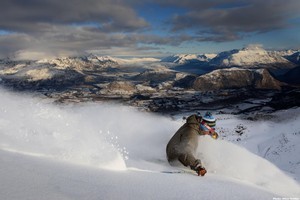 The tourism industry is optimistic visitor numbers will bounce back after plunging as Chile's volcanic ash cloud and late snow battered the vital export-earning sector.
Statistics New Zealand data show total visitor arrivals were down 10 per cent for June, compared to last year, at 131,269.
Visitors from Australia were down 14.9 per cent for the month compared to the previous year at 64,820 people. Figures for Britain and the United States were down 19.1 per cent and 9.7 per cent respectively.
Tourism New Zealand chief executive Kevin Bowler said the decline in the top three visitor markets was disappointing but not unexpected.
"This year New Zealand's had more than its fair share of natural events impacting visitor arrivals," Bowler said.
"However I'm optimistic July will see a return to the levels of growth we've been witnessing in recent months from the Australian market."
James Coddington, chief executive of NZSki which runs the Coronet Peak, Mt Hutt and Remarkables ski areas, said warm weather had a huge impact.
"We're a business of 4 months and we lost a month so that's significant in anyone's books," Coddington said.
"We certainly lose a good chunk of that [business]. Obviously with Rugby World Cup in September-October it all depends on how good our snow is late season as to whether we can claw some of that back."
The ski areas had been open for some weeks, with very good numbers through July, he said.
Goldman Sachs economist Philip Borkin said some visitors lost in June would not come later.
"That's the thing with tourism, if your flight's cancelled, you've got work commitments and things, you can't necessarily change.
"But I think once the ski season really ramps up and then we've got the Rugby World Cup, we'll see those numbers pick up quite sharply in the next little while."
And if the ash cloud came back after more eruptions?
"It absolutely could and that's clearly a negative with the outlook - let's just keep our fingers crossed, I suppose, that it doesn't," he said.
The US economy was slowing, Britain's recovery was pretty anaemic and there were challenges facing the eurozone, Borkin said.
"It's an environment where we're unlikely, particularly with the currency on top of that, to see strong growth out of those regions over the next 12 months or so," he said.
"The outlook is still a challenging one for a lot of players in the industry, particularly once we get through the Rugby World Cup, but there's still some big positive medium-term themes here with regard to demand from Asia that industry players should be focused on."
Visitors from China were up 22.5 per cent in June compared to last year, while Malaysia and Singapore were up 47.1 per cent and 18.6 per cent respectively.
Tourism Industry Association policy and research manager Simon Wallace said Asian markets stood out because of the decline in traditional British and US markets.
"We've got to look at what we're offering the Chinese visitors. Are we giving them the right food, are our service standards meeting their expectations? All those sorts of small things that can make a difference," Wallace said.
The Rugby World Cup was a real positive.
"If we didn't have the Rugby World Cup in September and October, I think there would be a lot of nervousness in the industry."