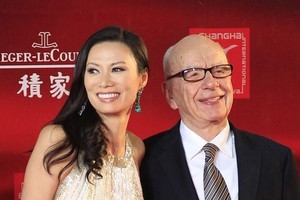 Wendi Deng, the 42-year-old wife of News International's 80-year-old Rupert Murdoch, was not merely standing by her man yesterday, she was fighting for him too, Britain's Daily Telegraph reports.
Demonstrating her skills as a former champion volley ball player, Deng leapt forward and slapped comedian Jonathan Marbles, who came at her embattled husband with a shaving cream pie during the House of Common culture, media and sport committee session.
The Chinese-born Deng has climbed from obscurity in the communist state to the top of the capitalist global media, on the arm of one of the world's most powerful men.
Born Deng Wen Di, she grew up in the eastern city of Xuzhou, but always dreamt of moving to the United States, the newspaper reported.
She got her chance when she met an American couple, Jake and Joyce Cherry, with Mrs Cherry agreeing to teach her English. Under the suggestion of Mr Cherry, Deng went to study in America.
Mrs Cherry soon realised Mr Cherry and Deng were having an affair, and the Cherrys divorced and Mr Cherry married Ms Deng in 1990. The marriage only lasted two years.
In 1998 Deng met Murdoch, who was then married to his second wife, however that stopped neither of them and they married a year later.
The couple have two children Grace Helen Murdoch, nine, and Chloe Murdoch, six.
The affection Murdoch holds for Deng, the Telegraph reports, would have only been enhanced by her defence of him yesterday.
From the moment she entered the Wilson Room, the Daily Telegraph's Stephen Adams writes, it was as though "she too was in the hot seat".
Adams notes Deng was not there " to do nothing but stand by her man".
As tensions increased under questioning from Labour's Tom Watson, Murdoch nerves began to tell, banging harder on the table as he defended himself.
Deng was seen to tap her husband on the shoulder several times, Adams says was "a soft reminder that he should remember himself".
And when Marbles lunged at the media mogul with plate of shaving cream, Deng was the first to her husband's defence, reacting before police or Murdoch's son James, who was sitting next to his father.
Deng slapped Marbles away with an open hand, and then attempted to turn the foam on the attacker.
One of the committee was later heard to say "don't get in the way of Wendi Deng", the Telegraph reported, while Watson told Murdoch "your wife has a very good left hook".
- NZ Herald staff