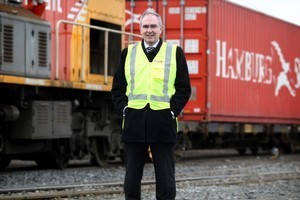 A Rail and Maritime Transport Union delegate at Dunedin's Hillside railway workshops has likened workers being told they had lost their job yesterday to "plucking sheep out of a herd".
Dave Kearns said workers were told the bad news late yesterday afternoon, just hours after the interviews were finished.
KiwiRail is cutting 44 jobs from the 172-strong workforce at Hillside as part of a nationwide downsizing of its rail maintenance and manufacturing engineering operations. Of the 44 jobs, 18 were forced redundancies.
Kearns said managers had visibly shoulder-tapped unsuccessful candidates to draw them away to break the news.
Others were left to "put two and two together" that they had held on to their jobs.
The process was handled extremely poorly, Kearns said.
Kearns retained his own job, as a mechanical engineer.
Union organiser John Kerr said yesterday was "confusing" for workers, with the news being delivered when some people had left for the day.
Mechanical engineer Richard Huband (38), who has worked at KiwiRail for three years, criticised the "generic" letter he received that got his name wrong.
While addressed correctly at the top, the letter then starts: "Dear Peter".
Huband said that having grown up in Mosgiel, he wanted to stay in Dunedin, but he felt bleak about the city's future as a centre of engineering.
Wayne White (59), a mechanical engineer at Hillside for eight years, said he was interviewed over the phone at 11am yesterday, because he was recovering from a serious illness.
He then got the bad news, also over the phone, just before 5pm.
He had had little time to prepare for the interview, he said. At his age, he feared it would not be easy to find another job.
"I'm at the end of my stick. I'm looking at losing my bloody home if I can't find another job."
KiwiRail chief executive Jim Quinn last night defended his management team, saying they carried out the process in a professional manner.
He said he could not comment fully on the specifics of the process until it was complete. However, it was a "poor show" that Huband's letter carried an incorrect name, Quinn said.
Earlier yesterday, Quinn told the Otago Daily Times there had been a "good number of volunteers" seeking redundancy.
"We have to make sure we retain the right people and skills to fit with the work we have ahead," he said.
The union blames KiwiRail's insistence on outsourcing contracts for its rail manufacturing operations to overseas firms behind decision to cut 70 jobs from its national workshops at Hillside and Woburn, in the Hutt Valley.
-OTAGO DAILY TIMES