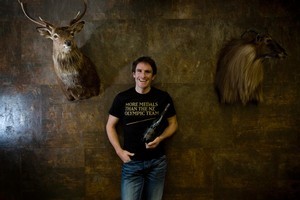 A craft beer-maker that angered alcohol campaigners for promoting breakfast drinking has become an official sponsor of the New Zealand Olympic team.
Blenheim's Moa Beer says initial sponsorship activity will involve the release of limited edition packaging, as well as serving its products at NZ Olympic Committee, VIP and partner events in this country and abroad.
Founder and master brewer Josh Scott, son of Marlborough winemaker Allan Scott, said the sponsorship put craft beer on the map and was a "wake-up call" to the big brewers.
"This is the first time a craft brewery has had this level of sponsorship in New Zealand and we believe it's a world first," he said.
Moa, which is 70 per cent owned by 42 Below founder Geoff Ross's Business Bakery and Pioneer Capital, is becoming known for controversial marketing campaigns. In April the company launched a 5.5 per cent alcohol "breakfast beer" at a 7am event on Auckland's waterfront.
"You probably shouldn't drive there or tell the HR person in your office about it," Moa's promotional material said.
National Addiction Centre director Doug Sellman described the marketing as "breathtakingly bold".
"It's a completely irresponsible stunt from a health and addiction perspective, because it's normalising pathological behaviour," he was reported as saying.
In May, Moa offered a "booze bounty" of 15 cases of beer to anyone who damaged Wellington's mooted "Wellywood" sign.
NZ Olympic Committee commercial and marketing director Terry Daly said Moa was a "good fit" as a partner for the sports organisation.
Asked if the committee had any concerns about taking on a sponsor that promoted morning drinking, he said: "[Moa] are a great company and they fit perfectly with us."
Moa's marketing manager Sunil Unka said the company took an "irreverent and cheeky" approach to its marketing.
"It's often talked about in New Zealand that there's a cotton-wool, over-PC attitude applied across the board and in some places that's certainly legitimate but we're talking about a beverage that's there to be enjoyed," he said.
Unka said Moa had tripled its sales between the beginning of 2010 and early 2011.
"We're doing decent volumes - we're one of the larger of the craft brewers in New Zealand, but we're still miles off the big boys [Lion and DB Breweries], we're only a drop in their whole production," said Scott.
He said the company was exporting to the United States, Singapore, Vietnam and Australia.
A change among consumers to drink less beer, but of a higher quality, was driving growth in the craft market, Scott said.
He said craft beer - excluding Mac's Gold and Monteiths, which belong to Lion and DB Breweries - held a 5 per cent share of the total beer market this time last year, but that figure might now be close to 9 or 10 per cent.
MOA BEER
* Founded by Josh Scott in 2003.
* Based in Blenheim.
* Exports to the United States, Australia, Vietnam and Singapore.