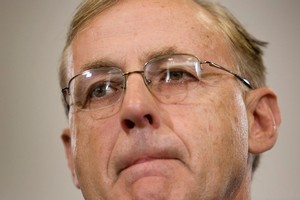 There is too much evidence of a sharp slowdown in global growth for the Reserve Bank of New Zealand to risk signalling an interest rate rise at next Thursday's scheduled review of the Official Cash Rate, says JBWere investment strategist Bernard Doyle.
In analysis of the recent surge in the New Zealand dollar to post-float high points above 85 US cents, Doyle says there are real risks the economy could be "doing a Wile E Coyote off the cliff" by the end of the year, if current global risks play out badly.
"The best thing Dr Bollard can do next week is pull out the poker face and give no hint as to his bias," said Doyle, who suggests too many economists and traders are treating the New Zealand dollar as a "popular one-way bet" in which an increase from the historic low current OCR of 2.5 per cent is regarded as certain to be earlier than previously expected, later this year.
Doyle says the global merchant banking firm's Leading Global Indicators measure shows a worryingly sharp slowdown in global growth in recent weeks, which can be expected to have an impact on the New Zealand economy if it continues.
"Momentum has evaporated," Doyle says.
"If things remain this weak, rate hikes will be the last thing on Dr Bollard's mind by year end."
"We've been here before, more than once.
"Those believing higher rates in New Zealand are a lay down misere should consider how finely balanced the world economy is at this juncture."
His judgement was particularly influenced by how closely the New Zealand OCR had tracked the Goldman Sachs GLI since the late 1990's, and showed the country closely following global economic patterns.
Meanwhile, such a growth slowdown would be expected to drop strong global food prices, which have underpinned New Zealand's recent more buoyant trade and farm sectors.
"The usual lag between global growth and NZ commodity prices suggests we should expect falling New Zealand export prices by the end of the year. But we won't have to wait that long - dairy prices are already falling," Doyle observes.
While a rising kiwi dollar was "fine as long as global growth remains strong and stable", the kiwi's propensity to rally on any excuse at present made it dangerous for the RBNZ to signal a view on rate rises.
JBWere still believed New Zealand interest rates could still need to rise by the end of this year to cope with higher inflation, but "we are also open to other, somewhat darker outcomes."