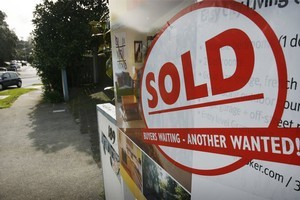 Continued low interest rates and slight increases in after tax income helped improve first buyer affordability in June to its best levels since late 2004, the Roost Home Loan Affordability report shows.

The prices of cheaper homes remained flat, helping affordability for younger double income households in most parts of the country.
Central Auckland affordability remains difficult as prices remain firm, but record low interest rates continue to keep affordability at its best levels in 7 years in most other parts of the country.
Invercargill is the most affordable city in the country, while Queenstown is the least affordable.
Floating mortgage rates are at multi-decade lows, although home buyers are increasingly viewing the prospect of higher interest rates later year as the Reserve Bank tries to contain inflation in a recovering economy, the report shows.
Some banks continue to offer rate and fee discounts to try to boost weak loan growth.
"Banks are competing hard for first home buyers and investors alike," said Rhonda Maxwell, spokeswoman for mortgage broking group Roost Home Loans.
Banks are offering loan to value ratios of up to 90 and 95 per cent and are discounting establishment and legal fees in competitive situations, Maxwell said.
"Home loan affordability ratios are the best we've seen in seven years, but the interest rate outlook is beginning to change," Maxwell said.
"Now is the time home buyers can get the most out of advice from a mortgage broker," she said.
Stronger than expected growth and inflation figures in the last week have prompted economists to bring forward their forecasts for the Reserve Bank's first cash rate hike to October or December from January.
The Roost Home Loan Affordability measure for all of New Zealand showed the proportion of a single median after tax income needed to service an 80 per cent mortgage on a median income was 52.6 per cent in June from 51.3 per cent in May.
The worst level of affordability was 83.4 per cent seen at the peak of the house price boom in March 2008 when 2 year mortgage rates were close to 10 per cent.
A young couple earning the median wage could afford to buy a first quartile priced house in June, with 21.0 per cent of their disposable income required to service an 80 per cent mortgage. This is down from 21.1 per cent in May and down from a June 2007 high of 35.1 per cent. It is at its best levels since November 2004.
The Roost Home Loan Affordability report measures affordability nationally and regionally for individual income earners and households, taking into account median house prices, interest rates and incomes.
- NZ HERALD ONLINE