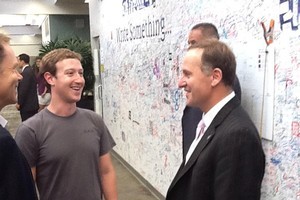 Prime Minister John Key met Facebook founder Mark Zuckerberg earlier today during a tour of the company's headquarters in California.
Mr Key's official trip to the United States includes a two day stop over in the state, before he heads to Washington.
Our political editor Audrey Young, who's travelling with Mr Key, says the meeting between the pair at Facebook's Palo Alto HQ wasn't scheduled.
They apparently crossed paths during Mr Key's private tour.
Mr Key has also had a tour today of the headquarters of internet giant Google.
John Key's tour of Google HQ, also located in Palo Alto, has had a distinctly Kiwi touch.
His guide is Craig Nevil-Manning, a Kiwi from Blenheim (educated at Canterbury and Waikato universities) who is Google's New York based engineering director.

- Herald Online staff