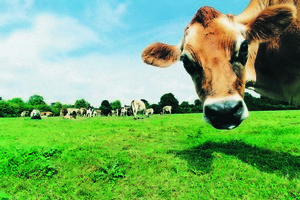 Fonterra is to build a third dairy farm in China and plans for more as it develops a milk supply model that can be replicated.
The farmer co-operative has signed an agreement with the Government of Yutian County to develop a dairy farm worth RMB260 million ($47.6 million) in Hebei Province.
Fonterra said the farm was the next step in its strategy to build a high-quality, sustainable fresh milk supply for customers in China.
Peter Moore, chief operating officer of Fonterra International Farming Ventures, said a pilot farm project, established in Hangu in 2007, demonstrated the company could successfully produce high-quality local milk profitably.
"What we're trying to do here is create a hub of about four or five farms reasonably close together so then we've got some scale in one area," Moore said.
"The development of farms in China is an ongoing process, this is clearly the third one and we've certainly got plans to continue to expand over time but each one will be done on its merits and trying to develop a hub is the first phase of that."
Construction of the third farm, which would train and employ about 100 local people, was expected to start in November and be completed by late next year.
The 40ha free stall dairy farm was expected to increase Fonterra's overall milk production in China to around 90 million litres a year.
The first farm was operational but had not reached full stable state production, while the second farm was expected to be fully commissioned by the end of the October, Moore said.
The farms would be capable of managing about 3000-3200 milking cows, with an initial production target of 28-30 million litres a year each.
"Obviously with continuous improvement we would hope that we'd do better than that in the future," Moore said.
The milk produced at this stage would be sold predominantly to local processors.
"We've got very strong demand for the milk because it's seen as being produced under a high-quality traceable system," he said. "The basis of this is that we want to develop a large pool of high-quality milk supply as the cornerstone of what we may do in the future."
Fonterra would not discount having some form of processing operation in the future but it was not currently part of the plans, Moore said. The milk hub model could be replicated elsewhere.
"Certainly while with all models you're continually fine-tuning them but yes we certainly see it as replicable in China because the design is really specifically China based at this stage."
Philip Turner, president of Fonterra China, said the demand for milk in China was expected to triple over the next 10 years and much of the demand was for liquid and fresh milk products.
"Our future in China is underpinned by our ability to grow high-quality local milk production for our customers and by playing a strong role in the development of the local dairy industry," Turner said.
Ji Xinglong, county mayor for Yutian County, said Fonterra's two farms in the region were helping to further build its reputation as a key national agriculture demonstration zone.
"We welcome the investment in the area and will support them in any way we can to ensure they have the right environment for their operations."
MILKING IT
Fonterra's third China farm
* Yutian county, Hebei Province.
* $47.6m investment.
* 40ha free stall farm.
* 3200 milking cows.
* 28-30m litres initial target.
* Construction to finish by late next year.