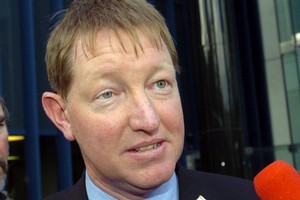 Healthy returns on investments go a long way to explaining the turnaround in ACC's financial position - enabling it to declare surpluses for each of the two years since the accident compensation scheme was said to be in jeopardy.
ACC expects to make $1.7 billion from investments for the year to June, on top of $1.4 billion last year.
A crackdown on long-term claimants, with 2500 taken off compensation in the past two years, has also helped the balance sheet by reducing the allowance made each year to cover the future costs of claims.
Long-term claimants are those on ACC for more than 12 months.
ACC Minister Nick Smith last week flagged levy reductions for employers and workers from April next year, saying the corporation's healthier books resulted from "improved rehabilitation, reduced claim numbers and better management of costs for which the board and staff deserve credit".
Dr Smith said better management had turned the organisation around from reported deficits of $2.4 billion in 2008 and $4.8 billion in 2009 to a surplus of $2.5 billion last year, with a similar return tipped for the year ended June 30.
In fact, the figures result from an accounting exercise.
Each year, ACC earns more in levies than it pays out in claims for medical treatment, rehabilitation and income compensation.
But a requirement that it allows for the future (lifetime) costs of claims incurred each year, coupled with variations in returns on investments, can radically alter its bottom line.
Two years ago, Dr Smith said ACC was technically insolvent and ACC chairman John Judge warned the scheme could fail if steps were not taken to reduce liabilities.
The warnings came after ACC increased its outstanding claims liability (the estimated sum needed to cover the lifetime cost of claims received each year) by $5.8 billion, to $23.8 billion.
The estimate is based on claim trends and economic conditions and is subject to yo-yo variation.
At the time, returns on investments were well down at the height of the financial markets crisis.
Critics accused the Government of creating a crisis to justify a clamp on entitlements, raise levies and open up workplace cover to the private sector.
Average wage earners paid $150 a year more, the motor vehicle levy went up by $62 over two years and motorbike fees rocketed.
Labour's ACC spokesman Chris Hipkins said the surpluses show the earlier figures were a manufactured crisis and the big increases in levies were unnecessary.
"Some of those changes were one-offs and some of the changes in the unfunded claims liability were a result of investment downturns," he said.
"When the markets recovered, suddenly ACC was responsible for this massive improvement in the Government's balance sheet.
"The big levy hikes they put in place in 2009-2010 were totally unnecessary."
But Dr Smith said the future liabilities allowance blew out because of Labour's extensions to the scheme, including extensions to physiotherapy and payments for the families of suicide victims.
"They made 22 extensions and we reversed 13 of them - and that changed the liabilities."
He said ACC had expected the number of long-term clients to grow from 14,500 in 2008 to 20,000 by 2020.
But the number of long-term clients fell to 12,000, with a huge effect on the future liabilities allowance.
Better rehabilitation outcomes and physiotherapy restrictions had also had big effects on projected costs.
A one-off $60 million reduction in physiotherapy spending meant half a billion dollars was slashed off the liabilities figure, Dr Smith said.