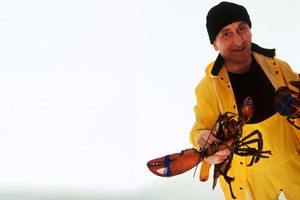 Marketing consultant Graham McGregor shares why 'humanising' your marketing makes it twice as effective....
One of my favourite copywriting experts is my good friend Troy White in Calgary, Canada. Troy is a big fan of getting his clients to 'humanize' their marketing.
He told me that when you can get a business owner to share a little bit of their personal side, where they came from, a little bit about their family, their kids, their spouses, their background, their failures and successes, likes and dislikes and you package this into their marketing material, it becomes very compelling.
Troy gave a great example of humanizing their marketing in a business called 'Catch a Piece of Maine'.
Two young guys have built this amazing business around the personalities of the real people involved in catching lobsters. In this business one of the main things they sell is high end memberships into a lobster club.
And when you get your shipment of lobsters, it comes with a special DVD.
On the DVD is the video of your very own lobsterman. Yes, you get your own dedicated lobsterman, you know his name, you know his cell-phone number and you know his email address and his blog. He's actually taking a video of himself, he's talking to you, mentioning your name and showing you 'Graham, here is how we catch the lobsters, here's how we pull them out of the trap' etc. So you get the personalised DVD with your order.
Troy told me that his father-in-law's birthday was coming up, and while he was not buying him a $3,000 lobster membership for his birthday, he was buying another service this same business offers. With this service, they have this bundle of lobsters and it's for two. You get your lobsters and you get some side dishes and desserts. This gets shipped anywhere you want them to ship it. So his father in law will get this cooler with live lobsters in it, and in it there will be a picture of his lobsterman catching his lobster, holding a sign that will say 'Bob, Happy Birthday'.
Troy told me that you can humanize your marketing by even talking about your pets.
For a client in the office stationery field, Troy created a two page flyer and made it look like a private customer newsletter. He called it 'Roxy's Rant' and Roxy is a little dog that hangs out in his client's office. They took a picture of Roxy and every time they send out a flyer Roxy has a new rant about some of the office supplies they sell. And people just love it. They actually visit the office supply business to buy 3office stationery just so they can meet Roxy.
The good thing about humanizing marketing is that very few businesses do it. Which means it's a great way to differentiate what you do from all your competitors.
One of the best examples of humanizing (that Troy shared with me in our interview) is a business that sells high end leather bags. This business has gained an almost cult like following because of the interesting personal stories they put on their website about all the products they make. The owner of the business has even written one of the most moving tributes I've ever seen about his dog 'Blue'. By humanizing their marketing this business has made it very easy for thousands of people to recommend their business to other people they know.
You can read Troy's full interview in The Unfair Business Advantage.
In the meantime, how can you 'humanize' your own marketing?
'People don't want to be marketed to. They want to be communicated with.'
- Flint McGlaughlin
Graham McGregor is a marketing consultant and the creator of the Unfair Business Advantage Report. (This is free and has now been read by business owners from 11 countries.)