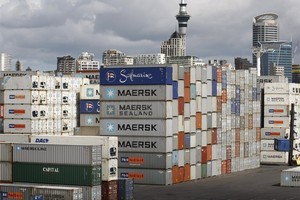 New Zealand exporters believe the Government is not doing enough to encourage overseas sales, a survey says.
The ExportNZ National Exporter Outlook Survey also found the majority of businesses would like more assistance from the state, particularly in developing offshore markets.
Sixty-five per cent of respondents to the study, which canvassed 236 firms representing over $3 billion in exports, thought the Government was failing to give enough encouragement to the export sector.
"Governments make choices about where they put their investment and I think you could argue that a lot of countries probably do a lot more [to help exporters]," said ExportNZ executive director Catherine Beard.
"But the flip side of that coin is that some other countries have bigger budgets and deeper pockets than New Zealand and we have to be smart and strategic about our assistance."
She said New Zealand Trade and Enterprise (NZTE), the Government's export development agency, was focused on helping firms with a proven track record, which could leave some small-to-medium companies feeling left out.
NZTE chief executive Peter Chrisp said the organisation's own surveys indicated the exporters it was working with valued its market development services.
"Looking ahead for us, it's about focusing on New Zealand's internationalising businesses and helping to create an environment in which they can grow bigger, better, and faster," he said.
The survey also found 50 per cent of businesses expected profits to improve over the next year, while 36 per cent expected them to remain flat.
Only 15 per cent of firms were expecting profits to deteriorate, it said.
Beard said 50 per cent of firms anticipating improved profits was a good result, given companies had only recently emerged from the global financial crisis.
She said it was especially pleasing that 61 per cent of respondents were manufacturers, which indicated that - despite the New Zealand dollar remaining at record highs against the greenback - such businesses were surviving and even thriving.
"These results demonstrate that those who are adding value to goods in New Zealand can still be internationally competitive, particularly if they offer products that are innovative and tailored to their customers' needs," she said.
However, 47 per cent of survey respondents said exchange rate pressure was the major obstacle preventing them from exporting.
BNZ senior economist Craig Ebert said the ExportNZ survey was evidence that a recovery was taking place.
One of the manufacturing sector's "saving graces" had been the Australian market, he said
Australia came through the global financial crisis in better shape than many of its Western counterparts, and its currency has performed even stronger than the New Zealand dollar, providing an exchange rate that has given New Zealand exports to that country a helping hand. The kiwi was trading at A77.35c against the aussie last night and US82.14c against the greenback.
"There are some signs that things are slowing down a bit in Australia but that tends to be more in the consumer demand area," Ebert said.
But he said there was still a lot of scope for New Zealand manufacturers to supply products to the Australian resources sector, as well as engineering and infrastructure projects.
"Those sorts of things are going to be the bedrock of economic activity in Australia for many years to come," Ebert said. "If manufacturers can hook into those sorts of industries they may well be protected from the consumer- led softness."
EXPORT OUTLOOK
* 50pc of firms expect improved profitability
* 36pc expect no change
* 15pc expect profits to deteriorate
* 65pc of firms do not think Government is doing enough to encourage exports