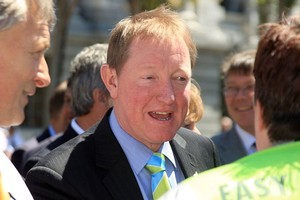 National says good management of ACC has enabled it to cut levies for workers and their bosses next year but Labour says ACC has been overcharging New Zealanders since the Government "manufactured" a crisis at the workplace insurer.
Accident Compensation Corporation Minister Nick Smith yesterday said the Government had approved levy reductions of 17 per cent for employees and 22 per cent for employers which would save households $340 million and employers $247 million a year. Someone on the average wage will be better off by about $3.27 a week.
Prime Minister John Key said the cuts meant an extra half a billion dollars a year being pumped into the economy and that would help to keep the cost of living down.
Mr Key said National had "turned ACC around from the dire state of record losses that Labour left it in", and Dr Smith said the cuts were affordable "because of the prudent management of ACC's finances".
"We have reversed ACC's large deficits of $2.4 billion in 2007/08 and $4.8 billion in 2008/09 with surpluses of $2.5 billion in each year since."

Dr Smith said ACC's finances had turned around because claim costs were not growing as fast and rehabilitation rates had improved.
He said the overall solvency of the scheme - the ratio of reserves it has to meet claims - was at its best level at 72 per cent.
Solvency in the earners and workers accounts was set to reach 100 per cent in the next year.
Solvency in the motor vehicle account was lagging but Dr Smith said motorists would not face licence fee or petrol tax increases in the coming year and levies could be cut in three years.
But Labour's ACC spokesman, Chris Hipkins, said the decision to reduce ACC levies just months out from the election "clearly proves that it manufactured a crisis in ACC in order to justify its privatisation plans".
Mr Hipkins said parts of ACC clearly needed sharpening up "but the crisis was never as bad as Nick Smith made it out to be".
"Nick Smith created a huge beat-up to justify massive levy hikes that weren't needed in the first place. The fact that they're now decreasing levies just months before polling day shows just how cynical their manipulation has been."
Under National, New Zealanders had been paying more for ACC cover but receiving less entitlement, he said.
"ACC has been declining more claims, reducing entitlements and cutting the compensation paid to accident victims sooner."
BusinessNZ chief executive Phil O'Reilly said the levy reductions would be welcomed by businesses and workers, but it was worrying that employers were still paying for non-workplace-related accidents.
"In the interest of fairness, these residual claims should be met by general taxation."
Submissions on the changes will be open until August 15 and the Government will make a final decision in September.
NATIONAL'S LEVY BREAKS
* If National's ACC levy cuts are approved:
* The Earners' Account levy paid by salary- and wage-earners will fall from $2.04 per $100 of taxable income to $1.70.
* For an employee on $50,000 a year that means a saving of about $3.27 a week or $170 a year.
* The average Work Account Levy paid by employers and the self-employed will fall from $1.47 per $100 of income to $1.15.
* That means a typical small business employing seven people on $50,000 each would save about $1120 a year.
* A self-employed person earning $80,000 a year who pays both levies stands to save about $528 a year.
- additional reporting NZPA