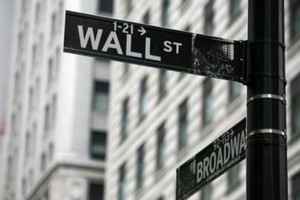 Australian stocks closed lower, with many investors staying out of the market as Wall St was closed for a public holiday.
Yesterday, Australia's benchmark S&P/ASX200 index closed down 12.6 points, or 0.27 per cent, at 4598.1, and the broader All Ordinaries index was down 13.5 points, or 0.29 per cent, at 4656.9. On the ASX 24, the September share price index futures contract was 17 points lower at 4579, with 21,881 contracts traded.
Shaw Stockbroking senior dealer Jamie Spiteri said the dampening effect on investor confidence of Monday's weaker than expected building approvals and retail data might also have carried into yesterday. The Reserve Bank of Australia's decision to leave rates on hold yesterday was widely expected and had little impact on shares, Spiteri said.
Among the resource majors, BHP Billiton was up 21c to A$44.23 and Rio Tinto gained 17c to A$83.32.
The big banks lost ground, with National Australia Bank the worst performer. It shed 28c, or 1.1 per cent, to A$25.14, while Commonwealth Bank lost 28c, or 0.54 per cent, to A$51.78, Westpac dropped 5c to A$21.97 and ANZ slipped 1c to A$21.93.
Bank of Queensland fared better, up 13c, or 1.6 per cent, at A$8.45.
The grounding of Tiger Airways again benefited the share prices of its competitors. Qantas gained 5c, or 2.54 per cent, to A$2.02, while Virgin Blue was steady at 31.5c.
Macquarie Radio Network shares lost 4c, or 3.08 per cent, to A$1.26 after it took a step towards acquiring eight regional Queensland radio station licences from the Smart Radio Network.
Shares in Treasury Wine Estates fell after big gains on Monday on reports of a possible takeover bid from China.
Treasury Wine shares lost 8c, or 2.2 per cent, to A$3.59.
- AAP