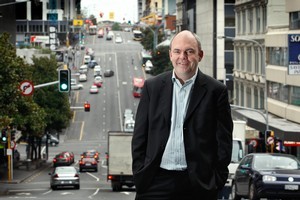 The last part of Auckland's western ring route - the $1.85 billion Waterview motorways project - has been given planning approval.
A board of inquiry yesterday waved a green flag at the project, which will give motorists an alternative to using State Highway 1 to get from one end of the city to the other.
The Transport Agency is now optimistic of awarding a contract for the first major phase - a half-tunnelled 4.5km motorway through Waterview - by the end of next month.
Transport Minister Steven Joyce welcomed the board's decision, which took just 10 months to reach under a fast-track consenting process, as a big step towards unlocking benefits which he said the route would bring to Auckland and the rest of the country.
But Green Party MP and Mt Albert resident David Clendon feared rising oil prices would result in a "near empty" motorway as Aucklanders sought more affordable alternatives to driving.
He acknowledged, however, that the board had attempted to address community concerns.
Albert-Eden Local Board deputy chairwoman Margi Watson, a long-time opponent of the new motorway, said yesterday's decision marked a welcome end to 10 years of uncertainty for local communities.
She said the decision prescribed significant mitigation works including replacement sportsfields and parks.
The Transport Agency hopes construction will start before Christmas so SH20 can be joined to the Northwestern Motorway by the end of 2016.
That will fill the missing link in a 48km motorway chain between Manukau and Albany, meaning faster trips between Auckland and the airport as well as for inter-regional traffic.
The penultimate link, a $220 million motorway bypass of Hobsonville, opens in September.
Bids for the Waterview stage have been lodged by two short-listed construction alliances, one led by Fletcher Construction and the other by Leighton Contractor of Australia in association with local firm Fulton Hogan.
The agency expects to invite bids early next year for widening the Northwestern Motorway between St Lukes and Te Atatu, and raising its causeway on Waitemata Harbour.
Agency northern highways manager Tommy Parker expects that job to take about three years.
Despite an early start on preparatory work for the Waterview link, he said it would take some time for the successful consortium to order tunnelling equipment from overseas, for construction of the 2.5km underground section to start by the end of next year.
A pair of three-lane tunnels will be dug between Owairaka and Waterview, but Mr Parker said it would be up to the contractors to decide what technology to use.
Work is in progress on two smaller sections, a widened motorway interchange bridge carrying Lincoln Rd over the Northwestern Motorway at Henderson, and the first half of a new interchange in New Windsor.
Mr Parker expects traffic to start using that interchange, at the end of the Southwestern Motorway, before the Rugby World Cup in September.
It will include an extension of Maioro St to Stoddard Rd, and the removal of a roundabout.
Conditions confirmed yesterday include altering the locations of vehicle emissions towers at each end of the tunnels and cutting their height from 25m to 15m.
The board has also overruled Transport Agency objections to paying Auckland Council $8 million to fill a missing link, include two foot and cycling bridges, between the Southwestern and Northwestern cycleways.
MISSING LINK
What it is: $1.85 billion set of projects to complete the western ring route.
Includes:
* New 4.5km half-tunnelled motorway from New Windsor to Waterview, linking State Highway 20 to State Highway 16 (Northwestern Motorway).
* Widening 8km of the Northwestern Motorway between St Lukes and Te Atatu, and raising its Waitemata Harbour causeway.
What happens next:
* Contract to be awarded by end of August for the Waterview motorway for construction start before Christmas.
* Bids called early next year for the Northwestern Motorway work. Construction to start in 2013.
* Overall project to be completed by end of 2016.