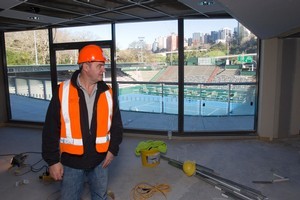 A $26 million multi-sport Auckland club is two months away from opening at the upgraded ASB Tennis Centre in Parnell.
Next Generation, an Australian-headquartered business, has a 50-year lease at the site and will open to the public on Saturday, August 23.
Bill Guile, Next Generation development director, said his firm had an initial 35-year lease from the Auckland Council and Tennis Auckland, with an option to renew for a further 15 years.
The business had made a significant capital investment in the property which it expects to be extremely popular for the sheer range of activities, he said.
"We see ourselves as a serious point of difference to Les Mills. We do operate a gym but our club is not a gym, it's far more than that," Guile said.
Phillip Mills, chief executive of Les Mills International, said he was pleased to hear of Next's arrival.
"They have built some nice facilities around the world and I welcome them to our shores. The more quality fitness clubs we build, the more we will get New Zealanders proactively looking after their health," Mills said from Europe.
In April, the new $10 million Les Mills Britomart was opened.
Tennis Auckland says its new Parnell centre will set it up for many years and described the project as a world-class facility. The venue will host the ASB Classic and Heineken Open, New Zealand's major professional tennis tournaments.
Guile said practical completion of building work beside Auckland Domain was scheduled for August 11.
"We started building in March last year but we needed to provide facilities so Tennis Auckland could continue and that was one of the biggest challenges."
Argon Construction won the building contract, RDT Pacific was project manager and local architects Copeland and Associates worked with interior designer Heather Kirkwood to create the project on the footprint of the existing ASB Tennis Centre.
All courts have been resurfaced with new plexicushion surfaces which Next said brought them up to world-class standards. The courts will also be available to the public. Next is managing public bookings for Tennis Auckland, Guile said.
Membership is open and a display suite has been developed at the site.
Next was formed in 1999 to cater for premium, large-scale, family-oriented health, sport and leisure.
It has sites in Sydney, Perth and Adelaide and its Auckland club is its first in New Zealand.
BALL'S IN DEVELOPER'S COURT AT REVAMPED RACKET CLUB
The $26 million Parnell sports club project headed by Bill Guile is the third big lifestyle-club project by the developer.
As development director for Australian-based Next Generation Clubs, he oversaw the creation of two big Perth clubs in the past decade: the Perth South project in which an old Bunnings building was converted into a A$16 million club and Kings Park Perth, a A$20 million purpose-built five-level building finished in 2007.
But the redevelopment and expansion of Auckland's old Stanley St tennis facilities has been one of the most challenging tasks for the former director of operations for Hilton Hotels, South Australia.
"I started working on this project in 2004," he says, looking around the site on track for opening on August 23 but still hosting dozens of contractors.
The problem was partly in meeting the needs of Tennis Auckland, which required parts of the site to be open to the public and for two major tournaments to be run in the midst of building work.
But the main difficulty was to fit the variety of multi-sport facilities into the tight site at 1 Tennis Lane, on the corner of Lower Domain Drive at the foot of Auckland Domain, alongside a motorway network.
Twelve tennis courts are spread around the site.
The original centrecourt will remain in place but four new rooftop courts have been built above a new building, three raised courts have been developed on the carpark roof, an old court has been resurfaced and three indoor courts have been developed.
A 25m indoor poolwas being plastered on Friday and a special thermodynamic skin has been fitted on the 25m rooftop pool to allow work to dry in mid-winter conditions.
Tennis Auckland is planning a covered dome over centrecourt. Fitout of the regeneration area is under way, where circular heated and cooling plunge pools have been developed, tropical showers are being installed and an igloo ice-room is planned.
A meeting room with a glass frontage overlooks the centrecourt, converting to a media box when required, and a rooftop function room, able to be divided into four separate areas, can seat 200 people with vistas towards the Domain and CBD skyline from full-height windows.
After Parnell, Guile returns to Australia. "There are sites in Sydney, Melbourne and Canberra in early negotiations," he said.
TENNIS, ANYONE?
Next Generation Auckland Domain.
* 1 Tennis Centre Lane, Parnell.
* 25m heated indoor pool.
* Gym with $1m of equipment.
* 25m heated outdoor pool.
* 12 tennis courts.
* 162 undercover carparks.
* Members' club and lounge.
* 25m indoor sprint track.
* Spa, sauna, steam room.
* Health and beauty services.
Membership:
* Standard (no tennis) $1768/year.
* Full (with tennis) $2028/year.
- Source: Next Generation