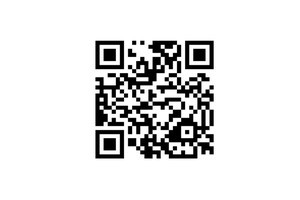 One snap with a cell phone camera and its straight to your company website. Or to your LinkedIn page. Or to YouTube for a video.
A new email or sms message. Even a phone call. Free to make, easy to use. They can save you thousands and earn you more.
I'm talking about QR codes and dollars to doughnuts you're not using them for your business now. You should.
QR stands for Quick Response. It's a bar code that is read by QR readers of course and cell phones with cameras.
You might have noticed a sprinkling here and there of Black modules in a square pattern? This is one I've made for my business cards.
It takes you to my website. Although New Zealand adoption has been slow - I think QR codes will catch on very quickly. Why? Four reasons.
Ubiquitous - Smart phones have proliferated to the point that they're everywhere you like. When I sit at conferences now, without fail, 7 out of 8 people will have one lying on the table.
According to Roy Morgan State of the Nation Statistics, in December 2010, 85.3 per cent if households had a main user of mobile phones.83.5 per cent of homes have an internet connection while 70.7 per cent have broadband. The reach is here and grows daily.
Free - Smart phones require a downloaded application to read the QR Code- but there are a plethora of free apps and likewise free programs online to make the codes. The QR code can be encoded with text, a web address, a vcard (Outlook contact business card), a sms message, a phone number or other data. Once read, the smart phone responds by going via wireless to the hyperlink destination. Or creates a text message, gets a phone the number ready to call. Creates an email.
Benefits the audience - It's an easy way to get instant gratification. Be it further information. Instructions. A contest. A special code. A pre-formatted email or sms message. Details about a purchase about to be made. Facts about a house for sale. A how-to install video. Ingredients. Background information. It's a click away and immediate.
Benefits to business - Lowered costs, improved customer service. Marketing and sales opportunities.
Here's a sprinkling of ideas on how to use them
Product packaging - instillation instructions or videos, warranty, ingredients, background history (wine for example).
In store on shelves or in product catalogues - further information about products on shelf or paper. How to use them. Instruction of use or sale details.
Advertisements - lead people to buy, sign up, sms their phone number, contests, product information, contest entry.
Signs - homes for sale, tourist information, bus timetables, further information about building
Books - publishers or authors website. Deeper information, videos, interactive material.
Catalogues - from throw away supermarket flyers to thick, annual product catalogues. You create a link from the static printed world to the dynamic easy to change and update web world.
Social media - link to your other sites or vice versa.
Directions - Capture the location of your business on Google maps or Wises and use that as a QR code.
Supermarket flyers, restaurants - recipes, food history.
Events - marketing them, responding as attending or not. Directions to venue, conference, course content. Speakers. Scavenger hunts
Contact details - copy your email signature or your business card details.
Shop window displays - Further details, link to online store
If you have a smart phone with internet browsing, download a QR code reader now. Better yet go online and find a code generator and start using it. Doing so now puts you in the forefront of a new (to New Zealand), free, technological innovation that can help improve your bottom line or simply help you to engage your customers further.
* Debbie Mayo-Smith is an International Speaker and No#1 bestselling author of 10 books. Contact Debbie on debbie@debbiespeaks.co.nz
http://www.successis.co.nz/books.htm
Linkedin
http://nz.linkedin.com/in/debbiemayosmith
Facebook
http://www.facebook.com/debbie.mayosmith.motivational.speaker