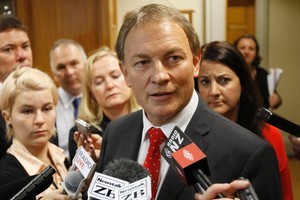 Labour is set to announce new tax policies but leader Phil Goff is tight-lipped about whether a new tax would be part of the package.
He confirmed today an announcement would be expected over the next couple of weeks.
"It will be in the area of taxation and we'll be looking at, as we've foreshadowed, indicating how we would be paying for the policies that we're introducing, and any changes in the broad taxation area," he told reporters.
Mr Goff would not say whether new taxes would be announced, such as a financial transactions or capital gains tax.
"I'm not ruling anything in or out at this stage, you'll just have to wait for the announcement when we've completed the policy process."
He would not say what Labour's current stance was on a capital gains tax, telling reporters he would not talk about taxation issues ahead of the announcement.
Finance Minister Bill English said he would not be surprised if Labour wanted to get more tax.
"But we want a competitive economy where we can lift incomes by selling more to the rest of the world and more taxes are going to make it harder for New Zealanders to earn a living, not easier," he said.
Mr English said the Government did not agree with financial transactions taxes.
"It looks like its taxing speculators and financial sector, but the main problem is they compound into the costs of transactions for ordinary people on the ground. So it amounts to a new tax for households."
Prime Minister John Key said he did not think New Zealanders had an appetite for new taxes.
"In the fullness of time, if we have good sound economic policy, we can actually grow wages and incomes for New Zealanders. And I don't think putting another tax on at a very fragile time is in the best interests of New Zealanders."
The Government remained opposed to a capital gains tax while Mr Key said a land tax would be "a disaster".
- NZPA