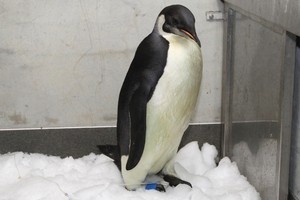 Chip maker Bluebird is today expected to unveil a rescue plan for the country's most famous penguin.
The company said last night that it had been in contact with Wellington Zoo and would release details today of how it could help Happy Feet.
The penguin - only the second known emperor penguin to land in New Zealand - has captured the nation's hearts and his story has gone around the globe.
Wellington Zoo yesterday confirmed that Happy Feet was a "he" after DNA tests were completed.
Things are looking up for the penguin as new x-rays show almost all of the sand in his stomach is gone.
Wellington Zoo spokeswoman Kate Baker said Happy Feet was doing really well and was back to eating solid foods.
He is now consuming 2kg of salmon a day.
"He gets to eat the nice fish now, not the mushy stuff," Ms Baker said.
Happy Feet had his fourth operation on Saturday, when about 300g of sand and rocks were flushed from his stomach.
Ms Baker says there are still some rocks in his stomach, but that is normal for a penguin.
"Our vet team sent the x-rays away to some people at Massey [University] just to check if the rocks can be left or if he is going to need another operation to have some of them removed."
Happy Feet's specially formed "penguin advisory group" decided last week that, provided he continuesto gain weight, he will be released south of New Zealand in about a month.
However there is still the issue of who will pay for Happy Feet'scare.
Investment advisor Gareth Morgan launched a campaign at the weekend to help pay for his care and food, and said he would match every dollar donated to Happy Feet.
Bluebird - which has used penguins in its adverts for decades - was first linked with the bird last week.
Meanwhile, Prime Minister John Key said he was not jealous that Happy Feet knocked him off the top of the news cycle in recent weeks.
Yesterday Mr Key said he had been following the saga of the penguin, which became ill after eating sand on Peka Peka Beach.
"It knocked me off the top of the bulletin on a couple of occasions, but I haven't taken it personally," Mr Key said.
"Happy Feet didn't make it to the Cabinet [agenda], but we wish him a very speedy and happy recovery and a successful trip back to Antarctica."
- additional reporting Derek Cheng