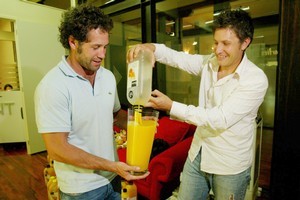 Marc Ellis stands to pocket around $18 million from a potential overseas takeover of the juice company he co-founded more than a decade ago, but says the deal will not bring huge changes to his life.
"To be completely honest with you, I'm going to be up at 3 o'clock tomorrow changing nappies so life won't change an awful lot," the 39-year-old former All Black, former Kiwi and father of two said. "It's just nice to have the hard work that's occurred over the last 12 years recognised."
The founders of West Auckland-based juice maker Charlie's - Ellis, Stefan Lepionka and Simon Neal - yesterday agreed to sell the New Zealand listed firm to Japanese brewing giant Asahi for $129.3 million.
The deal requires Overseas Investment Office approval and must also gain the acceptance of 90 per cent of Charlie's shareholders.
Major shareholders - including Ellis, who owns a 14 per cent stake - have so far given 52.17 per cent approval to the takeover.
Ellis pocketed more than $1 million last year when he sold a portion of his shares.
Ellis resigned from Charlie's board in August 2005 after being convicted for possession of Ecstasy, a class-B drug.
The conviction - part of the so-called "celebrity drugs ring" that made headlines that year - came at an awkward time for the juice company, which had listed on the stock exchange only a few weeks earlier. Shares almost halved in value after Ellis' name was linked to drug allegations.
"There's so many challenges in every business and every individual's life that you just have to ride them," Ellis said yesterday. "I was confident with who I was ... and I didn't think [the conviction] would have too great an effect on the Charlie's brand and I guess that was proven right."
Ellis rejoined the board in 2006.
Asked about his future plans if the Asahi takeover was successful, he said: "We're motivated by New Zealand Inc ... and what potential we have to market products from New Zealand."
Ellis, who has two children with his Argentinian wife Agustina Mon, said he planned to keep a base in this country.