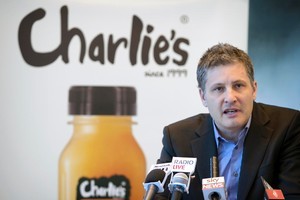 In early 2005, just a few months before Charlie's stockmarket listing, co-founder Stefan Lepionka told the Herald: "The plan is to take this story to the next level."
Six years later, that level may well have been reached.
The Asahi deal could net the 39-year-old Charlie's chief executive, who owns a 14.1 per cent stake in the firm, about $18.2 million.
Lepionka, the son of Polish war orphans who arrived in New Zealand in 1944, entered the beverage trade as a 17-year-old, selling homemade juice in old milk cartons at his mother's Wellington coffee shop.
In 1990 he set up his first brand, Stefan's, which beverage company Frucor bought a 75 per cent stake in four years later. He kept 25 per cent of the company, but the joint venture did not turn out to be a happy one.
"They became a majority shareholder and, looking back, they forced me into that," Lepionka said in 2005. "They basically said, 'we'll take you on or you can join us'."
After three years he parted ways with Frucor and the beverage firm purchased his 25 per cent shareholding in Stefan's. Lepionka headed off to Europe on his OE, where he ended up working as a juice trader in the UK. He returned to New Zealand in 1999, not feeling overly enthused about getting back into the beverage business.
But it was childhood friend and former All Black Marc Ellis - with whom Lepionka ran a Wellington icecream cart business in the early 1980s - who rekindled his enthusiasm for the juice trade.
Ellis, with friend Simon Neal, wanted to set up a juice plant in Auckland, and Lepionka thought it sounded like a good idea. Sometime later Charlie's was born.
In the 2005 interview Lepionka said the plan was to produce a simple, unadulterated product.
In July 2005 the company floated on the NZX, following a reverse takeover by listed shell company Spectrum Resources, which bought Charlie's for $11.66 million.
Just over a month later Ellis resigned from the board of directors after being convicted on drugs charges in the Auckland District Court. Ellis rejoined the board in September 2006 and remains a director today.