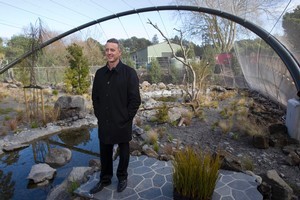 Building the biggest development project in Auckland Zoo's 88-year history had unique challenges, with contractors in fluorescent vests attracting animals who sometimes identify the bright jackets with being fed.
So when a cheetah stopped to lick the salt off a sweaty construction worker one day, the man knew the drill.
"All the workers were told not to run. So he froze," explains Shane Brealey, managing director of NZ Strong which won the $16 million contract to redevelop a quarter of the zoo.
Six new precincts have been developed to showcase New Zealand - the forest, the high country, the coast, the wetlands, the islands and the night. Walkways, plants, rocks, buildings, bridges, rivers and enclosures have been developed to show off these New Zealand habitats.
And soon the inhabitants will arrive, shifted from other parts of the zoo.
Four new mesh bird enclosures, spanning about 5000sq m, are up. A replica kauri dam has been developed, thousands of native species including full-height cabbage trees have been transplanted and yesterday the builders hosted a party for 250 to thank all those involved.
"We clocked up 4000km from walking trucks into the site at 5km/h because going through a live zoo, people had to be stationed in front of each truck as well as behind and with heavy loads at the sides as well," Brealey said.
Brealey is the construction boss who in 2004, after 15 years working for Australian firms and then as Multiplex Construction's managing director, decided to form his own business.
He had led Multiplex's push into New Zealand, but said seven years ago he had "a Jerry Maguire moment" when he decided he had the skills and contacts to leave a large corporate.
Like Tom Cruise in the movie about a sports executive who leaves a large conglomerate, Brealey said he realised he was no longer happy working for big business and would gain more satisfaction starting from scratch.
"NZ Strong was designed to do precisely this sort of job," Brealey said. His firm's founding ethos is based on patriotism and Kiwi pride.
Since 2004, the business has won contracts worth $220 million and this year alone will complete projects worth $50 million.
"In the last three years, we've done $29 million, $37 million and now $50 million so if this is a recession, bring it on."
Much of Brealey's order book is filled by the public sector, with a quarter for Auckland Council and a quarter for public transport agencies.
"We don't build residential. We don't work for private developers who are undercapitalised. We don't work more than two hours from Auckland because we like to sleep in our own beds at night.
"We don't do CBD high rise," he said.
Other NZ Strong jobs lately are a $2.5 million platform widening at Kingsland Railway Station ready for the Rugby World Cup, a $16.6 million project for Fletcher Construction at New Lynn Railway Station and a $10.9 million job building the new Motat aviation hall.