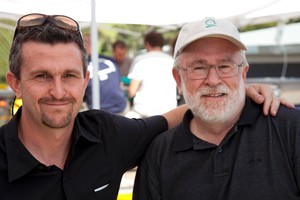 A Waiheke Island wine has given New Zealand's burgeoning reputation for producing quality reds a boost with a top international rating - and an expert hopes it will prompt Aucklanders to better support grape growers there.
In its June edition, US wine magazine The Tasting Panel awarded Destiny Bay Vineyards 98 out of 100 for its 2007 Magna Praemia.
Editor Anthony Dias Blue, whose musings are sent to 30 million people every month, described the wine as "velvety, luscious and ripe with concentration on intense fruit ... stunning and super long".
In previous reviews of other Waiheke vineyards, he has commented that he is "convinced that this small spot is producing some of New Zealand's - and the world's - best reds".
New Zealand wine critic Vic Williams says the recognition is about the highest you can get. "It will be well sought-after and command a tremendous price."
The Magna Praemia is a blend of 70 per cent cabernet sauvignon, 18 per cent merlot, 5 per cent cabernet franc, 5 per cent malbec and 2 per cent petit verdot. Every grape is hand-picked with no leaves, stems or twigs in the mix. The juice is aged in French and American oak and only 300 cases are produced each year.
Williams says Hawke's Bay is recognised as the home of bordeaux red blends, including cabernet sauvignon, merlot and malbec - but Waiheke is rapidly growing in favour. "Because they're small producers, they don't get the same press."
He says unlike the Hawke's Bay, which has a hospitality industry that supports its wines, Auckland restaurants haven't adopted Waiheke Island as their region - "they're hard to find on menus".
"Auckland should adopt them. It's nice to drink food and wine from the region you're in."
In the past, cabernet sauvignon and merlot were the major red grapes in New Zealand, but pinot noir has captured the public's imagination and syrah, the Kiwi version of shiraz, is stacking up to be the next big thing.
Williams says it is pointless trying to compete with cheaper red wines from across the ditch. "You can pick up a drinkable Aussie red for under $10 but in New Zealand you can't find an equivalent under $15. We don't need to worry about producing a wine inexpensively, the emphasis is on quality."
Vineyard general manager Sean Spratt is excited about the rating. "Like so many of New Zealand's small producers, we don't make a lot of wine, but we do try to make some of the best."
Waiheke Island vineyards make up 0.5 per cent of New Zealand's total production and New Zealand as a whole makes up less than 1 per cent of the world's production - "we're rarer than rare".
Destiny Bay co-founder and Spratt's father, Mike Spratt, says he is proud to contribute to New Zealand's growing reputation for world-class cabernet blends.
"These are the kind of endorsements that will alter perceptions of New Zealand being a big sauvignon blanc factory. Anything that adds to our international credibility will help our export ambitions."
New Zealand Wine Growers chief executive Philip Gregan says Destiny is following in the footsteps of Waiheke red wine pioneers from the 1980s, Goldwater and Stonyridge. "It's great for the winery and gives a halo effect to the image of New Zealand wine overall."
DESTINED FOR WINE
The Spratt family emigrated from California little more than 10 years ago after falling in love with New Zealand while on holiday.
"We were looking at building a home at Rocky Bay on Waiheke and thought maybe we should plant some grapes," general manager of Destiny Bay Vineyards Sean Spratt says.
The property sits in a bowl-shaped, north-facing amphitheatre protected from southerly winds.
"It was just going to be a hobby but we did a viticultural assessment and found it wasn't just a good place to grow wine - it was a great place."
The project took on a life of its own and the first merlot vines were planted in January 2000.
"People said it sounded like destiny and that's how we came up with the name. We didn't pick the vineyard, it picked us."
Destiny Bay produces fewer than 2500 cases a year of their distinctive Magna Praemia, Mystae and Destinae blends.