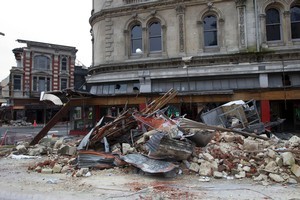 Christchurch and Waimakariri councils have up to $3 billion worth of uninsured assets after policies expired yesterday, with Waimakariri saying another significant quake could mean it was unable to restore some services.
Christchurch City Council said it had secured limited insurance cover for some of its assets, but its brokers were still negotiating in overseas markets to obtain cover for the rest.
Council general manager corporate cervices Paul Anderson said new insurance was needed because current provider Civic Assurance was unable to reinsure its cover for $4.2 billion in assets.
Following the repeated earthquakes, insurers and reinsurers had an embargo on providing new policies in the Canterbury region. Earthquake damage to the Christchurch council's assets to date was fully covered by insurance or Government contributions.
The council had secured insurance cover for fire for 2202 housing units not damaged or in the red zone.
Each unit also has earthquake cover for up to $100,000. That provided cover for $385 million of assets.
Cover was also secured for the CBS Arena to $50 million, along with cover for the council's fleet, art collection, public liability and professional indemnity and other minor covers such as marine and standing timber.
"While our brokers are also trying to place the remainder of our assets in the London market (including two visits to that market), we have been advised this market has very limited earthquake capacity," Anderson said.
"Also to obtain cover in that market, the underwriting is done on a per asset basis with insurers carrying out full modelling on each individual asset."
It was likely that if the council could get that cover, it would be restricted to fire and defined perils only, and there was every likelihood no earthquake cover would be offered.
An issue frustrating the process was that new insurers must receive full information about the condition of assets, Anderson said.
That was a big task because of the number of assets, and the June 13 aftershocks required them all to be re-inspected for damage.
Information had been provided for 30 critical assets valued at $631m, including major city venues, Christchurch wastewater treatment plant, pumping stations, art gallery and libraries.
The brokers would continue to seek to place that insurance directly into overseas markets, Anderson said.
The Government had said any further damage to essential infrastructure would be repaired.
Waimakariri District Council chief executive Jim Palmer said the situation was grave.
"Should a significant earthquake affect the Waimakariri District, the damage that could be sustained could mean that neither the Council nor the local community could afford to restore damaged services."
- NZPA