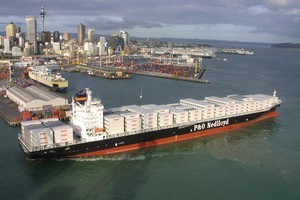 Two of the country's biggest exporters are teaming up to boost their shipping services and cut costs.
Dairy giant Fonterra and meat company Silver Fern Farms will today launch a freight partnership, which will include setting up a company combining some of the two firm's operations.
Fonterra managing director of trade and operations Gary Romano said New Zealand was further away from its markets than any other industrialised nation.
"That's always been the case and we can't do much about that but what's also happened of late is that as the shipping companies try to become more profitable, particularly after the global financial crisis, you have actually seen far less shipping services out of New Zealand."
Vessels also tended to run at a slower speed as shippers tried to save fuel, Romano said.
"What becomes really stark for us is that we've now got less shipping services so you don't have quite the choice of shipping lines and services that you'd like.
You've still got small ships coming into this country and visiting multiple ports and so there is an expensive cost structure here.
"No individual importer or exporter can work to either improve costs or improve service level and for us somehow we need to find a way of doing this on a New Zealand basis."
The initial focus would be smoothing out freight volumes and presenting large enough quantities to a couple of ports to encourage bigger ships into the country.
"The number of ports that we might have in the future is all unclear because there's the mix of coastal shipping versus deep water," Romano said.
"The investment that you need for larger ships to enter into this country for deep water shipping it just makes no sense that all ports would do that investment."
Fonterra's shipping variability in any one week could be equivalent to a full ship, Romano said.
"If you really want to take some costs out and ultimately improve the service somehow working with other shippers to take out that volatility in the shipping requirements is really important here."
The door would be open for other partners to join but also for people that just wanted to use the services.
Fonterra had received very enthusiastic support from other parties "which we're hopeful will result in an expanded partnership in the not to distant future", Romano said.
"We'd like to be able to put a proposal to others, not only exporters but potentially even importers ... where it'll be obvious that working collectively is going to get a better result than trying to work individually."
Fonterra alone accounted for about 25 per cent of national exports.
"What does optimal freighting in and out of New Zealand look like versus today?" Romano said.
"I think it's very different but what I can't tell you is, well it's going to look much different in a year's time or in two years' time."
The official start date of the partnership is expected to be announced today with details of when the first load will leave New Zealand.