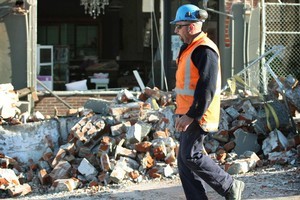 New rules covering financial advisers come into force today. From now on, all advisers must be registered on the Financial Service Providers Register and, if they advise retail clients, they must belong to a dispute resolution scheme.
Those who advise on investments must also be licensed by the Financial Markets Authority and meet minimum qualifications and professional standards.
FMA chief executive Sean Hughes says the new rules are an important step in restoring investor confidence in the financial markets.
"Many Kiwis make decisions that affect their financial future without getting any professional advice at all," he said.
There had been a perception that there are "too many cowboys" in the industry. Under the new rules, an adviser must only recommend investments and products that suit their client's situation and needs.
They must also explain the risks of an investment. "We think that investors need to take control of their own destiny and what we are trying to do, with these changes, is to give them some of the tools and information that they need to build that confidence," Hughes told Stock Takes.
He said the FMA would keep a close eye on people who say they are authorised.
Financial advisers and their services can be checked on a public register available at www.fspr.govt.nz.
CAVALIER RIDING HIGH
Controversy over the control of the wool scouring company NZ Wool Services International has not done Cavalier Corp's share price any harm.
The stock currently trades at $3.80, not far off its 52-week high of $4 and well clear of its low for the period of $2.33.
In February, Cavalier said its 50 per cent-owned associate Cavalier Wool Holdings had lodged an application with the Commerce Commission for permission to take control of Wool Services in order to bring about further rationalisation of the New Zealand wool scouring industry.
To the surprise of many, the commission gave its blessing, so now it looks like Cavalier will be in a position of greater market dominance in this sector.
Cavalier has offered $40 million for Wool Services, which is controlled by the Allan Hubbard-related companies Plum Duff and Woolpak, both of which are in receivership.
On Wednesday, Carpet manufacturer Godfrey Hirst lodged an appeal in the High Court against the Commerce Commission's decision and is seeking a stay of the decision to ensure that its appeal can be heard.
The thrust of Godfrey Hirst's argument is that the commission failed to have regard for the anti-competitive factors arising from its decision "including the acquisition's conferral on Cavalier of a substantial degree of market power".
Wool Services, an NZAX-listed company, has two wool scouring plants and a wool trading division.
Late last year Direct Capital acquired a 25 per cent interest in Cavalier, which is New Zealand's biggest wool scouring company. ACC owns the other 25 per cent.
Cavalier cleans and processes greasy wool for domestic and export markets on behalf of New Zealand wool buyers and carpet manufacturers.
It is a big operation by international standards and is a global leader in its sector. It is also one of the world's largest producers of wool grease, a byproduct which is further refined to produce lanolin, an ingredient with growing demand for use in cosmetics and pharmaceutical products.
NEW EVENT
The market has some clarity now as to how Tower Group will deal with the Christchurch aftershocks. In relation to the June 13 aftershock, Tower will be treating claims as an "event" under its reinsurance arrangements.
The company expects the aggregate costs associated with the aftershock, including its reinsurance excess, the purchase of additional reinsurance to maintain cover for two events, and associated costs, to increase Tower's expenses in the year to September 20, 2011, by $7 million to $11 million after tax.
These costs are in addition to the $15 million to $20 million after-tax impact expected to be incurred this financial year as a result of the February 22 earthquake.
Credit Suisse now expects Tower to report a profit of around $15.9 million for the year, down from $58.1 million in 2009-10. The brokerage does, however, expect to see a bounceback in 2011/12 to a net profit of $58.8 million.
"Tower's full year earnings have been hit by unprecedented earthquake claims and reinstatement top-ups," Credit Suisse said in a research note.
The benefits of increased premium rates will, however, flow through in 2011/12 and beyond, it said.
GPG APPOINTMENT
Tower Group has a new Guinness Peat Group representative - Michael Allen - on its board. Allen is a professional director with roles in New Zealand, Australia and the UK.
He previously led Westpac Institutional Bank in New Zealand and was a participant on Westpac senior strategy groups in New Zealand and Australia.