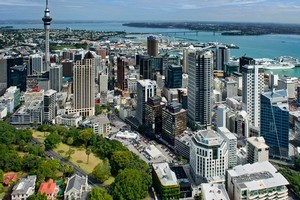 Commercial property confidence in Auckland has hit an all-time high, underpinned by improving business confidence and job security, says the latest quarterly Investor Confidence Survey by Colliers International.
This month's survey shows that overall confidence nationally has increased from minus 3 per cent to 10 per cent - the most optimistic national result recorded since the inception of the survey in March 2006.
Every centre except Wellington and Nelson recorded increased confidence about the year ahead compared with survey results for March 2011.
"Auckland's overall result of plus 32 per cent means that a net 32 per cent of respondents think that things will get better over the next year for investors," says Alan McMahon, director of research at Colliers.
"Overall, Auckland confidence has risen at a consistent plus 16 per cent in each of the last three quarters, the biggest and most consistent rise in New Zealand.
"Furthermore, Colliers has noted that Auckland's CBD has been leading the rest of the city out of a recession, and that Auckland as a whole is leading the rest of the country in the same fashion."
Auckland's most negative overall result for commercial property confidence was in March 2009, at a net minus 72 per cent.
Eleven centres were surveyed by Colliers, with 3695 responses used to construct the results. "By sector in all of the main centres, industrial investors are the most optimistic," says McMahon. He says that since December 2009 the Auckland industrial sector has led the way, consistently out-performing retail and office sectors.
"In Auckland we would expect the office sector to maintain its recovery. Investors in office properties are now nearly as confident as industrial investors with retail investors lagging."
McMahon says the survey shows such a dramatic increase in confidence because of the fundamental reasons why organisations occupy commercial properties.
"Businesses and other organisations need property to accommodate their operations," he says. "If their business is growing, more people are needed and that usually means more property."
McMahon says the survey indicates that investors are feeling more confident that their existing tenants will not only continue to occupy the space they lease, but will sign rights of renewal and may even expand their businesses.
"Individuals are also feeling more confident about job security, leading to a slight improvement in the level of retail spending which has been static or declining for a couple of years.
"This leads to increasing demand for retail property and for property occupied by manufacturing facilities and service-provider businesses - many of which are tending to do slightly better than they did last year."
Remarkably, Christchurch has shown the largest increase in commercial-property confidence - up by 47 per cent compared with three months ago - with industrial investors the most optimistic. However the survey was done early this month, before the destructive June 13 aftershocks.
"Confidence in Christchurch has been understandably volatile with confidence rising more sharply and further after each earthquake. But it is impossible to read anything into the current Christchurch data," McMahon says.
McMahon says that with all the bad news emanating from Christchurch, it is not appreciated that most of the city's industrial areas are still working as normal and many suburban malls are doing well. However, small CBD businesses that use retail or office property in particular cannot be relocated easily.
"Until there is clarity around redevelopment of the city we would not expect confidence to be anything except highly volatile," he says.
Wellington has consistently had one of the most negative outlooks in the country in regards to commercial property, and it has dropped by 10 per cent in the past three months.
"If the office sector's responses were removed from the statistics the result would be considerably higher, reflecting the continued government pressure on the office sector.
"When the impact on owners of the earthquake-strengthening costs and the extent of the Government's planned reduction in public-sector employment are clear, we expect that confidence will begin to rise again."
Tauranga/Mount Maunganui reported its best-ever survey result, with an increase in confidence of 9 per cent on March last year, placing the region equal with Queenstown on Colliers' net-confidence table.
"These are relatively wealthy areas where investors, at least in some cases, are not heavily reliant on debt," McMahon says. "Tauranga is consistently positive and is often either top or near the top in terms of confidence.
"There has also been a great deal of activity in the Queenstown market already this year, showing real positive confidence in the long-term future of the city centre."
Investor confidence in the commercial property sector in Hamilton is at 8 per cent positive, according to the survey.
"Overall confidence in the Waikato region has climbed up by 20 per cent from its absolute low of minus 12 per cent in September 2010, led by a rise in general market and economic sentiment," says McMahon.
"Rural and agricultural economies such as those in the Waikato reflect the positive sentiment of farmers, who are doing well and buoyed by strong dairy pay-out numbers. Hamilton property has been less affected in the bad times, less volatile and generally more positive."
Whangarei's confidence in commercial property rose by 16 per cent in the past three months while confidence in the Napier/Hastings region lifted 1 per cent in the last quarter.
Palmerston North reported a 4 per cent rise in confidence for the quarter and Nelson a 1 per cent drop in confidence.