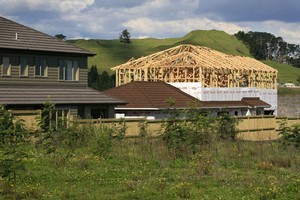 Building consents for new homes related to the earthquakes that have hit Christchurch since September are starting to come through, although the majority are for temporary units and not for new houses, Statistics New Zealand says.
Meanwhile, the national trend for consents for new dwellings, excluding apartment units, appears to have turned around in the last three months, which would be welcome news for a building industry waiting for the Christchurch rebuild to commence, while the it also eyes up housing shortages in the main centres, especially Auckland.
Earthquake-related consents for new homes to be built in Christchurch have been extremely low since the September earthquake that hit Canterbury, despite the government moving to relax planning laws in a bid to fast-track rebuilding.
The February quake that followed added much uncertainty to when rebuilding would begin, with issues surrounding slow insurance payouts and debate over the state of land in Christchurch.
Last week the government announced it would offer 5000 homeowners in the worst-hit Christchurch suburbs a payout for the 2007 value of their homes, with another 10,000 homes to be reviewed.
89 consents since September
Figures released today show consents were issued for 68 new homes in May due to the quakes, with 63 being relocatable units intended to house displaced Christchurch residents. This added to the four relocatable units consented in April.
"The latest month's figure makes up over three quarters of all new homes identified as earthquake-related since September 2010," Statistics NZ industry and labour statistics manager Louise Holmes-Oliver said in a release.
There had been 21 consents issued for new homes due to the quakes between September and April, with the total now 89 at the end of May.
Turn around?
Meanwhile, national figures show building consents for 1,139 new homes including apartments were authorised in May, down 16% from the same month a year ago.
"Although the trend for this series, which shows the long-term picture, has fallen to its lowest level since the series began, the rate of decline has eased," Holmes-Oliver said.
"This continues the picture we saw in April, with signs the decline in residential consents is easing," she said.
In May 2011 the number of new dwelling units authorised in the North Island fell by almost a quarter (down 222 units, or 24 per cent) from May 2010, while the South Island remained at a similar level (up 1 unit, or 0.2 per cent), Stats NZ said.
The regions with the largest decreases were:
Auckland, down 85 units to 236, Wellington, down 52 units to 89, Waikato, down 39 units to 163, Taranaki, down 37 units to 30.
Excluding the volatile apartment unit category, there were 1,073 consents for new dwellings in May, down 20 per cent from May 2010.
However, seasonally adjusted figures show consents for new homes including apartments rose 2.2 per cent in May from April.
This followed a 1.2 per cent fall in April and a 2.5 per cent rise in March.
Excluding apartments, seasonally adjusted figures show the number of new dwellings authorised has been rising for the past three months, with a 0.9 per cent rise in May following rises of 3.7 per cent in April and 4.2 per cent in March.
"The trend for the number of dwellings authorised, excluding apartments, appears to have reached a turning point, following decreases that began in April 2010," Holmes-Oliver said.
"However, trend values are subject to revision each month and caution should be used until more data becomes available," she said.