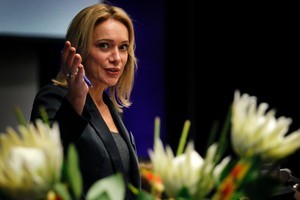 Women wanting to succeed in business need to trust their instincts and not listen to the critics, a conference in Auckland heard yesterday.
About 140 delegates gathered at the Global Women event to hear chief executives, managers, directors and businesswomen discuss their successes and the challenges they have faced.
Although membership to the forum is restricted, anyone could attend the conference to hear and meet speakers.
These included Saatchi & Saatchi's chief executive Nicola Bell and Sarah Paykel, who helped establish bath and body company Lush in Australia and owns her own PR company. TV presenter Alison Mau was MC.
Paykel chaired a panel on how to fast-track entrepreneurial businesses, and said the forum wanted to provide collective support and encouragement for women in the workforce.
Start-up companies needed to clearly understand their market, have a goal, a vision and be prepared to seek help and hire people with qualifications they didn't have, Paykel said.
"You have to stay motivated. When it's your own business, you're delivering to yourself. You live and breathe your business.
"You need to know your market and be single minded, and really brave. You can't take no for an answer, and care what anyone says. You have to take knockbacks and explore every avenue, you have to explore. You need to be tenacious."
Paykel said there were many challenges for start-up businesses and most fledgling firms failed. Funding was a key issue for many companies. The first injection of money often came from personal savings or family money before banks came on board, and funding difficulties could restrict businesses in the beginning, she said.
Paykel said doing business in Australia had its own challenges but the Australians celebrated success and weren't afraid to be proud of their achievements, whereas Kiwis tended to be more humble.
This was an attitude that needed to change to encourage more entrepreneurs, Justine Troy, former shareholder in 42Below, said.
There needed to be a shift of attitude to combat the "tall poppy" syndrome and that started with education at school level, Troy said. "We're [incredibly] humble. But we need to breed winners, it's about winning. We are so scared to put people on a podium."
Troy said she and husband and business partner Geoff Ross had a "gut feeling" that the business would be a success, even when everyone said "no".
Global Women board member, and director of WebSphere Software Group for IBM in Shanghai, Katrina Troughton said the organisation was about building a community of senior leaders who could share knowledge and information with the female workforce.
"It's about passing on experience and inspiring new leaders. It's about sharing information and skills, to the next generation of leaders."
She said age was not a factor in becoming a business success. "There are people working into their late 60s now - women who start new careers in their 50s," Troughton said.