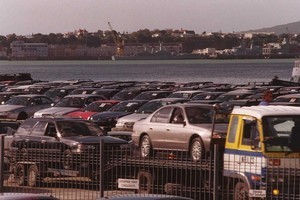 National Radiation Laboratory (NRL) staff have checked hundreds of vehicles arriving at Ports of Auckland on car carriers from Japan but said today no levels of radioactive contamination of any health significance were detected.
The Ministry of Health told NZPA that the NRL carried out the radiation checks "for re-assurance purposes" after a request from port managers.
"The National Radiation Laboratory's current assessment is that routine radiation monitoring is not currently required," the ministry said.
A Hoegh line car carrier, the Tristan, was due to land more Japanese vehicles in Wellington today, with other shipments due in Auckland on Thursday, and two more next month.
Overseas, customs agents in Chile detected low levels of radiation on vehicles shipped from Japan after Tokyo Electric Power Company's Fukushima Daiichi nuclear power station was damaged during the massive earthquake and tsunami that struck northeastern Japan on March 11.
The Mainichi Daily News in Chile reported radiation was recorded from 21 of 2500 vehicles that were shipped from Yokohama, but the Chilean Nuclear Commission deemed the level of radiation too low to be harmful to human health.
The Government in Peru ordered the cars to be hosed down on the ship.
Last week, workers from Australia's Radiation Protection and Nuclear Safety Agency screened 102 cars from a shipment of 800 sent to Port Kembla in southern New South Wales, but reported there was no trace of contamination.
The tests were ordered after Maritime Union of Australia assistant national secretary Warren Smith said any risk of radiation was too big a risk to take.
"Workers and consumers come into direct contact with these cars - the Government watchdog must ensure there is no health and safety risk," he said. The public had a right to know if there was a radiation threat, he added.
The union is now seeking radiation screening for all Japanese cargo entering Australia.
But on this side the Tasman, the NRL said Japanese ports were now sampling exports for radiation contamination following guidelines issued by the authorities.
Radiation monitoring equipment used internationally was sensitive enough to detect radiation at trace levels even where these are not sufficient to pose a threat to health, the NRL said.
"Mail and general cargo originating from Japan and being imported into New Zealand does not present any significant radiation health hazards to persons handling it, for example at mail centres, airports and sea ports," it said. This included cars, machinery and parts, and permeable materials such as textiles.
In some instances, companies or organisations had funded their own monitoring, and requests for radiation monitoring received by the NRL were considered on a case-by-case basis.
- NZPA