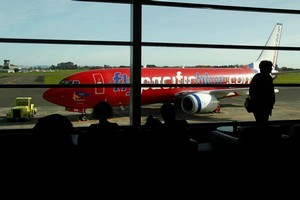 Australian airlines chose not to fly in and out of New Zealand during the past two weeks for financial reasons, not because of the safety risks posed by ash clouds, according to a Wellington finance analyst.
Yesterday Jetstar and Qantas finally took to the skies again after grounding scores of flights during the past two weeks.
They said the groundings were because of safety concerns posed by ash from the Chilean volcano Mt Puyehue Cordon Caulle volcano.
Air New Zealand mostly kept to its schedule during that time by flying at a lower altitude.
Forsyth Barr aviation analyst Rob Mercer told Fairfax Media the high cost of fuel and the continuing effects of the global economic downturn meant most airlines were running at a loss in the second half of the financial year ending June 30.
Qantas' international operations would lose A$200 million ($260 million) this year, it announced last week.
The first round of ash cloud disruptions cost Qantas A$21m.
The impact of grounding flights was not as great during a period of losses compared with a time of high profits, Mr Mercer said.
"The decisions not to fly are easier if you are running at a loss, than they are if you are running at a profit. [Air] New Zealand probably came out of this with a lot more customer loyalty than Qantas," Mr Mercer said.
Air New Zealand was losing money in the second half of the year, but its domestic network was highly profitable which explained why they continued flying, he said.
Jetstar chief executive David Hall earlier said the airline's decision to keep aircraft on the ground was entirely based on a commitment to safety.
"The safety of our passengers, our people and our operations is Jetstar's number one priority - we always put safety before schedule," he said.
- NZPA