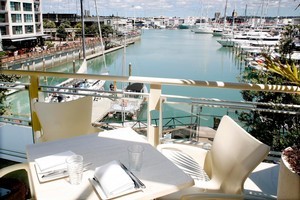 One of the country's top restaurants has been booked out for an entire month during the Rugby World Cup as a base for the French - the tip of the iceberg of corporate business now rolling in for the tournament.
The country is hoping to recoup as much as $700 million in direct spending from 85,000 World Cup visitors, after spending $1.2 billion in investments contributing to the cup.
Hospitality Association chief Bruce Robertson said it was the surge the industry had been waiting for.
"We're seeing a boost in activity now. It's been a pretty quiet couple of years, and this boost is certainly needed," he said.
France's rugby union will have exclusive use of Kermadec's restaurant area at Auckland's Viaduct Harbour between September 25 and October 23.
The area can seat 100 people, and is expected to be used by rugby administrators, players' families, diplomats and dignitaries.
Although the restaurant will be unavailable to the public, Kermadec also has a bar and brasserie that will remain open during the tournament.
Kermadec general manager Hamish Klein said he could not comment without approval from the French organisers, but said that Kermadec's French origins would make it a good match for the visitors.
The upstairs restaurant specialises in seafood and is one of the first at the Viaduct Harbour when walking in from Queens Wharf.
Its tables are adorned with white tablecloths and offer views of the harbour, and the seasonal menus currently include entrees of living oysters, freshly shucked, and main dishes of pig nose, John Dory and wild red deer.
Entrees cost between $20 and $26, and mains just over $40 - premiums which British writer Peter Bills noted last year in his article about "rip-off New Zealand".
The value of the French union's booking is unknown, but industry sources say it could be worth hundreds of thousands of dollars.
Ian Lines, owner of the Taiko Japanese restaurant in Kingsland, said he had already turned away 300 people wanting a seat in his eatery, which is within sight of Eden Park.
"It's huge. Lots of people have tried to book the whole place but I haven't let them. I'm trying to keep some room for Kiwis," Mr Lines said.
Michael Dearth, owner of The Grove, said recently that corporate bookings were filling up the early afternoons of the tournament.
"They want a great meal at 3pm, 4pm or 5pm, before the games," he said.
The Grove was named Auckland's top restaurant by Metro magazine.
Hospitality expert and former Auckland restaurateur Rebecca Jones said the top restaurants around the city were booming with reservations, particularly during the last weeks of the World Cup.
Overseas bookings for the cup tended to be in large groups, often for whole restaurants, Ms Jones said.
Local residents would be wise to book for any birthdays or anniversaries that fall during the tournament period.
"If you're a New Zealander and want to go to a restaurant, you would want to be in now. If you're not, you might be hard-pressed to get a seat."
Ms Jones said many eateries had begun taking deposits for World Cup bookings in response to the high demand - "they would be silly not to".
Meanwhile, tickets to a major Auckland food event coinciding with the World Cup finals week went on sale yesterday.
The Taste of New Zealand - which in previous years has been known as the Taste of Auckland - has made 25,000 tickets available, but organisers said they might not last long.
Just 5000 tickets are available to each session of the four-day event, when at least 6000 foreign visitors are expected to arrive in Auckland every day during the week - with up to 40,000 in the city by the weekend.
The festival is being billed as "the biggest party in Auckland outside of the tournament" and is scheduled for October 19 to 22.
"With all the international guests and media in town that week, Taste of New Zealand [will] be a magnet for anyone in town," said festival organiser Rob Eliott.
The event will feature about 15 top chefs and 120 food and drink companies, as well as musical acts.
Organisers said the tickets were likely to be "snapped up", particularly those for the festival's VIP evening session on October 19.
Is your business winning bookings and sales ahead of RWC 2011? Let us know at newsdesk@nzherald.co.nz